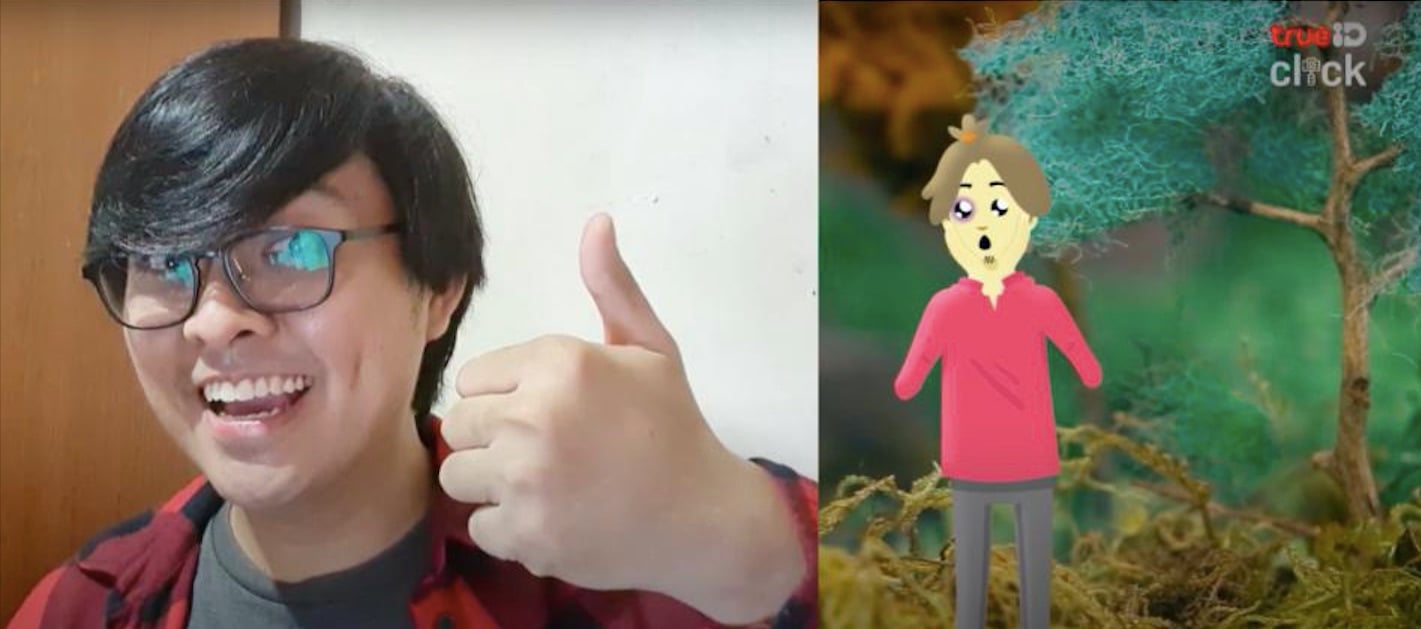 "I don't want to be just a drop in the water. I want to be someone that creates a ripple effect that inspires people with the animation that I create."
From watching cartoons as a kid to creating his own animation as a TrueID Click pitch competition winner, Chete Morales is certainly living his childhood dream. Chete's triumph proves that hard work and perseverance really does pay off. The artist hopes to bring his own unique brand of storytelling and carve out a space in the industry with Kwentuhang Kanto, a 10-minute animated short that features a unique mix of classic fairy tale elements combined with modern pop culture references, all set in the kingdom of Makari.
Chete delves more into his creative process during a TrueID Click Hangout session with Dustin Sta. Maria, TrueID's Senior Content Officer, and talks about his childhood, current works, and the local animation industry. Here are the highlights of their discussion.
On his childhood drawing inspiration:
Chete fondly recalls his father teaching him how to draw a face using the word "boy." When it comes to fictional characters, his favorites are Recca Hanabishi from the anime Flame of Recca and Voltorb from Pokémon. "[Voltorb is] easy because it's just drawing a circle," he explains with a chuckle. This further cements how the 1990s truly inspired his art style.
On his solid support system:
Just by viewing Chete Morales's livestream, we already feel the good vibes as he enthusiastically thanks each and every one of his family, friends, and fans who were at the special Q&A.
That day, he was surrounded by many people who were cheering him on. His own parents have always given Chete full agency on his career path as he exclaims, "They support me 100%! They let me take up an animation course in MAPUA [and] they go to my exhibits. They are watching this interview now!"
On the state of Pinoy animation:
"Nakakatuwa" he says of the many featured animation works created by Pinoys these days. Chete feels hopeful about the state of the local industry, foreseeing that it will be more in demand in a few years' time. He further expounds on his statement, "Our generation grew up watching cartoons in the morning and in the afternoon [after school]—like Ghost Fighter and Naruto. There [are] many animated films that have made people laugh, cry, and feel inspired…[Later on,] the improvement of technology will make animation processes easier [with] more and more young artists [taking] up animation."
On the best advice that he received from a TrueID Ambassador:
During the TrueID Click pitch competition, Chete was given solid advice by judge and mentor Richard Juan. "[He told me to make sure that I] create content that would still be relevant in 2-3 years and this is something that [I am trying to do moving forward]." And guess what? RIchard has already seen Chete's creative output! So what does he think about the pilot episode? Well, you can watch the TrueID Ambassador's reaction here and find out.
On what Chete wants to tell aspiring content creators:
"Get ready! If you believe in your content and what you want to share with the world; the spotlight will make its way to you. You never know when an opportunity like the one that TrueID has provided me will come along, the spotlight may be on me now but if you believe then [you'll also have your chance one day.]"
Kwentuhang Kanto's Pilot Episode: Si Von at si Marie Joanna (Ang Diwatang Nagpapasaya)