Trick-or-treat season is here and no pandemic can stop us from missing this yearly event. Despite the many restrictions imposed on us due to the pandemic, life goes on. After all, Halloween still is the best season to dress up pretty, scary, and cool at the same time, right?
This year, no need to stress out about looking for outfit ideas 'coz we got you covered. These costume ideas are pretty inexpensive and easy to make. What are you waiting for? It's time to scour your closet so you can trick-or-treat to your heart's content!
Ghost
Too busy to create last-minute DIY Halloween costumes? Here is a simple Halloween outfit that only needs two items. And if you have extras, then you can most definitely pair up with your boo! 😉
Things to prepare:
White bedsheet or any white sheets enough to cover ¾ of your body
Sunglasses
Hat
Underwear (if you want it simple but funny)
How to wear it:
First, get the white bedsheet and fold it, forming a triangle. Fold it again.
Locate the meeting points of the folds.
Determine the center of the white bedsheet and wear the center part of the triangle over your head.
Pop on a pair of sunglasses on top of the sheet, and you are good to go!
Optional: You may also cut two small holes to make it easier for you to see.
Squid Game Costumes
Have you watched the popular survival Netflix series Squid Game? In the series, one of the games called "Green Light, Red Light" has caught a lot of attention due to its iconic gigantic robotic girl.
This Halloween, you may want to bring this horrific game to life by dressing up as her.
Things to prepare:
Yellow shirt or blouse
Orange sleeveless or spaghetti strap A-line dress
White socks with or without frill
Black shoes
Hair ties (for pigtails)
Clip-on bangs  (optional)
How to wear it:
First, you need to wear a yellow shirt or yellow blouse which serves as the base of your outfit.
 Next, wear the orange dress over it.
Put on a pair of white socks and black shoes. We suggest a pair of Mary Janes, but if you don't have this then any black shoes will do.
To complete the iconic robotic girl's look, put your hair in pigtails and attach the clip-on bangs.
If you're opting to go as one of the players for Squid Game instead, here's what you need to do.
What to prepare:
Green fleece jacket or any jacket
Green jogging pants
White shirt
A pair of white Vans slip-ons
Green construction paper
White ink pens or white ink eraser
How to wear it:
Wear a white shirt and green jogging pants. Make sure to tuck in the white shirt in the pants.
Wear the green jacket on top of the white shirt.
Put on your white Vans slip-ons. 
Next, you'll need to make the player's number which you'll stick on the left chest area and back of your jacket. Get some green construction paper, cut out  a rectangular shape with a measurement of 2  x 3 inches.
Write your preferred number between 1 to 456 using the white ink pens or white ink eraser. You can check out screenshots of the series to write out the numbers more accurately.
Stick the numbers on the green construction paper using double-sided tape or glue.
Among Us Costume
Did you know that "Among Us" was released in 2018? But when the pandemic hit, it became one of the most popular, favorite online games in the world? It's also an easy way for you and your friends to dress up—though make sure to be careful of impostors! 👀
What to prepare:
Hoodie and leggings or long pants in the same colors
Eye shield
Paint (Black, blue, light blue, and white)
Optional: Full face helmet
Any additional accessories (i.e hats, cap, banana peel, leaves, witch hat, blood paint)
How to wear it:
Wear the hoodie and legging or long pants.
Cover your head with the hood.
Tie the lace of the hood and make it tighter enough to only show your face.
Paint your eye shield white and leave it to dry.
After it dries, paint the glass design that the Among Us crewmate has on it. 
Using the black paint, draw the outline of the shield.
In case you have a full-face helmet with the same color as your hoodie and leggings, you may wear it instead of the eye shield.
Finish your look with accessories like hats, a banana peel, leaves, witch hats, and many other things you can think of.
If you want to play as the impostor, you may stain your clothes with ketchup or fake blood. 
Zombie
Let's face it, a lot of us have thought of the possibility of a zombie apocalypse happening. And with the pandemic, it sure proves that even with advanced technology and modern medicine, anything is possible. A zombie virus might break out any time. But until then, we'll just stick to the costume.
What to prepare:
Any unused shirt or clothes
A pair of scissors
Banana ketchup for fake bloodstains
How to wear it:
With a pair of scissors, cut up the shirt to make it look like you've been through a horde of zombies. 
Strategically rip out parts of the shirt to make it look like it was unintentionally ripped. 
You can then start dirtying up the clothes with banana ketchup.
To capture the authenticity of your costume, you may smudge it with real dirt.
You can look like a zombie with just the clothes. But with some foundation that's lighter than your skin tone, some dark eyeshadow for bruises, and green eyeliner pencil that you can use to trace some veins on, you'll look like the best of the undead.
Covid-19 Shoo! Outfit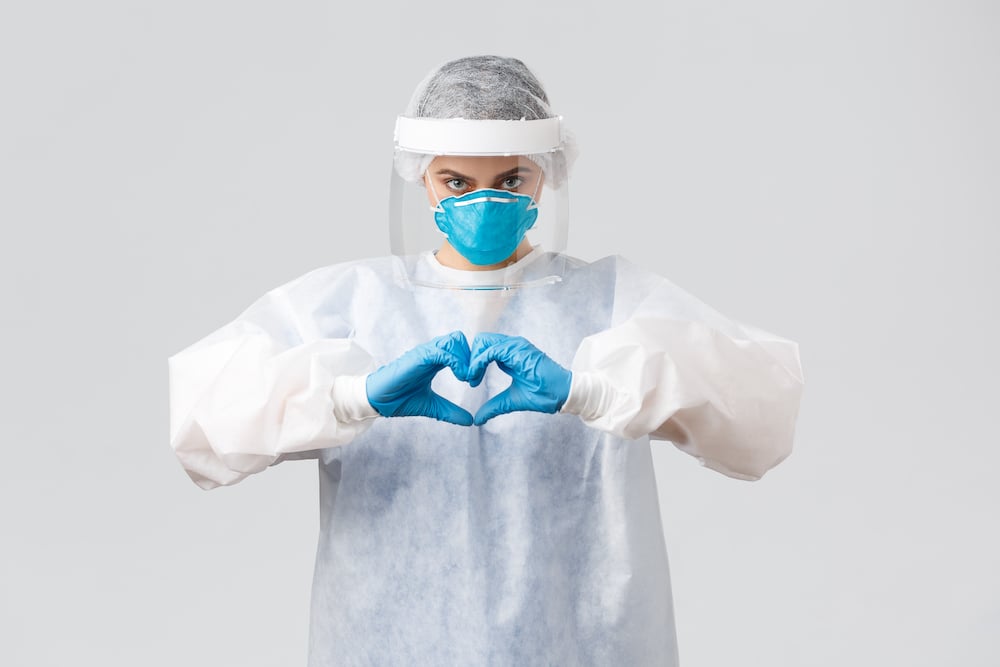 Ahh, don't you just miss social gatherings? It's one of the few things we miss about pre-pandemic times. Another thing we miss is not having to worry about catching the virus when in public. So we've solved that problem with this functional costume for all you germaphobes out there.

What to prepare:
A PPE suit if you have one
Alternately, you can use a sauna suit, tracksuit, or jacket and long pants
Full face shield
Face mask
Three shower caps
Rubber shoes
Gloves
Spray bottle
Thermal gun
How to wear it:
Wear your PPE suit. If you don't have one, you can opt for a sauna suit, tracksuit, or a jacket and loose-fitted pants. 
Wear a face mask and a face shield for protection.
Wear your shoes and put one shower cap on each foot.
Wear gloves on your hands and tuck in the sleeves of your jacket into your gloves.  
To complete the look, bring a spray bottle with alcohol as if you're ready to sanitize everything around you. 
You can use the thermal gun as a prop. But it's also pretty nifty when you want to check someone else's temperature. 
Zoom Meeting Outfit
Moving forward with the new normal, virtual meeting applications such as Zoom, Google Meet, and Skype have become our new best friends for working or studying remotely. After more than a year of working from home, we've come to realize wearing formal tops with our pambahay is the way to go.
This Halloween, you may not have enough time to change into your costume after a whole day of virtual meetings so you might as well just wear it out.
What to prepare:
A corporate-looking top
House shorts or pajamas
Laptop
Anti-radiation eyeglasses
Headphones
Tumbler or mug
Makeup
How to wear it:
Put on your formal top. It could be a blouse with a blazer on top or just anything that you think you'd wear at the office.
Pair your top with some boxers, pajamas, or a pair of shorts that you usually use at home. 
Bring your laptop or tablet and wear your headphones as if you are virtual-meeting-ready.
Don't forget to bring your daily dose of caffeine in your go-to mug or tumbler.
For added effect, put on some makeup to emphasize dark circles under your eyes, for that all-day, everyday exhausted look! 🙃
Man or Woman Cut in Half
Brought my A-Game to my school's Vocabulary Parade. #ILLUSION #sycamoreyr2 #IamDSISD pic.twitter.com/KoTkm4VyW4

— SSES PE (@SSESpe) October 31, 2018

You've seen movies where a woman's torso has been cut in half during magic shows, right? You don't have to be a magician or a special effects makeup artist to give the illusion of being cut in half, but it still needs a lot of creativity.
Here's what you need to pull off that look.
What to prepare:
Unused long pants, jeans or trousers
Oversized long-sleeve button down polo
A t-shirt of the same color
Small box or cardboard with the same width as the waist of the long pants
Zip ties
Red fabric
Measuring tape
A pair of scissors
Thread and needle
Banana ketchup for fake blood
How to make it or wear it:
First cut a horizontal slit at the back of your pants, right where your knees would be. Make sure the holes are big enough for your legs to go through.
Next, put the pants over the box. Secure the box by the pants' waistline by making holes through the pants and the box, then looping them together with zip ties.
To hide the zip ties, take the red fabric and wrap or sew it around the waistline. This also makes the cut portion look bloody.
Take the button-down polo and measure 6 inches down from the collar of the back of the polo. From that point, mark it horizontally from shoulder to shoulder then cut it.
Next, wear the shirt with a color closer to the button down polo. Optionally, you can wear your preferred bottoms, or opt for skin-colored tights.
Insert your head and arms through the cut at the back portion of button-down polo,
Wear the pants by inserting your legs through the cut made on step 1.
Finish the look with fake bloodstain or banana ketchup on the hem of the polo and around the waist area of the pants; you may also put some fake blood stains around your mouth as if you have vomited blood.
To pull off the whole costume, you should carry the waist area of the pants and lean back slightly to look as if you are hugging half of your body on one side. For photos, you can also kneel and arrange the excess portions of your pants to make it look more macabre.