with Merry Melle Aguilar
Let us paint you a picture.
It's the second week of March in the year 2020. Everything is going fine. Until it isn't.
Your job is gone, you can't see your friends and relatives, and you're stuck at home after the mandated home quarantine.
Flash forward to when things have adjusted, yet not everyone can go back to the way things were.
Life has a bizarre timing, and maybe you're thinking it isn't so hard to adjust to. Though not everyone has that privilege — others have it much harder.
Businesses have suffered further losses since the COVID-19 pandemic erupted last year.  According to the Department of Labor and Employment (DOLE), at least 25,226 more workers were laid off in January 2021, while 108,089 more people found themselves without pay or with drastic wage cuts 1.
"The hard fact is that when you're a person with a disability, anywhere around the world, you will always need to prove yourself," shared John Paul "JP" Maunes, the founder of the Philippine Accessible Disability Services Inc. (PADS) in an interview with g.spot PH.
Among members of PADS, they gave their past experiences during their childhood.
Owen Loceño had his fair share of challenges that he had faced, with a disability of an orthopedic above the knee. He was often ridiculed by the people around him, with children mocking the way he walks. It caused him to feel shy of himself.
He encountered trouble and got into rehabilitation. After spending time there, he eventually started accepting and embracing himself. He moved on from being conscious to thinking less of the judgment he received from others.
Raymart Valleser recalls being teased, bullied, and pushed around made him feel insulted. Not to mention the mockery of the signs and symbols that the deaf community makes use to communicate to the hearing community.
He even mentioned that playing with other kids was difficult because they would not be able to understand one another.
From the hardships he went through, depression began to nestle in his life.
Valleser used to work alongside Denven Verano, also a member of PADS, as housekeeping attendants in a hotel. Both were laid off from their employment during the course of the pandemic. They thought they could go back to their jobs but it was only for a short amount of time.
Being the breadwinners of the household and providing for the family is not an easy task to handle, much less with the prevailing pandemic that halts life to operate in a normal manner.
Both former employees of the hotel expressed how hard it was to think of a way to feed their families.
Career Opportunities
But amidst the darkness that plagued the country, one establishment rose and shed spark to the dying light that was on the verge of blackout.
Being in a community always helps to share that feeling of belongingness and form a bond with the people around you. Through Maunes's initiative, Dubby's Ultimate Burgers came into existence.
Dubby's Ultimate Burgers is best known for its exemplary customer service and great food experience. They are located beside UV Gullas, Mandaue Campus.
Maunes' fascination with burgers drove their business to address the need for meals during the province's lockdown. He opened work opportunities from the kitchen staff to the delivery riders.
In line with the PADS' advocacy, he invited and trained several of the members of the Philippine Dragon Boat Team to be part of the workforce. Among them were assembly line Chef Owen B. Loceño, Chef Raymart Valleser, front-of-the-house service crew Denven Verano, and barista Karen Jane Dianon.
Their training was quite stressful for Dianon. She shared how difficult it was to impress customers, yet her determination gradually overcame the pressure. Skills were developed, and confidence was acquired.
"Working for Dubby's for a year now has made me very happy," Dianon said.
It's unfortunate how people often see disability as a setback, assuming the negative side immediately and disregarding the positive qualifications that an individual has.
Loceño recounts how lonely it was when he didn't have anyone with him. But as he worked with the other employees, he appreciated their presence greatly. He found a sense of closeness like that of a family. They would share meals and gather around one table.
"Our combined disability is our greatest strength," Maunes stated.
Stop the Stigma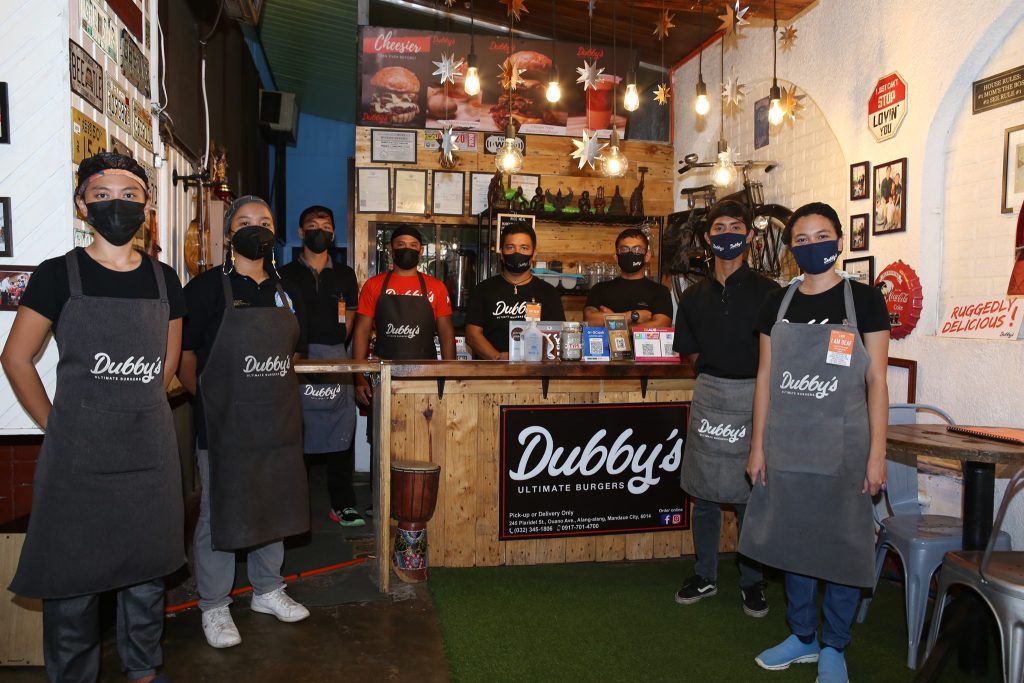 Valleser opened how there are a lot of things that disabled people can do. They just have to look at their best selves beyond their disabilities. In fact, 57.1% of the PWDs in the Philippines are employed according to the International Disability Rights Monitor (IDRM) report 2.
Despite having a Magna Carta for Disabled Persons, people with disabilities still face discrimination and lack of work opportunities.
Dianon mentioned how proud they are of their culture and identity. They feel hurt and insulted when people do not understand them, more so respect them.
An Act of Volunteerism
The Philippine Accessible Disability Services Inc. (PADS) is a community where people with disabilities are enabled to grow and develop as independent, integrated, and empowered citizens in society.
This non-government organization started as an act of volunteerism of young professionals and college students towards the deaf community 3. However, seeing the need for community support for people with disabilities. Maunes pushed and organized for an inclusive community where participation is encouraged through adaptive sports, hence the present Philippine Dragon Boat Team.
"The sport is a huge contributor. People are inspired to see us race," Verano said. "It proves to each other that we can do things that normal people can do."
There are still a long ways to go, but with PADS bringing more awareness to the disabled community and career opportunities created by businesses such as Dubby's Ultimate Burgers, there are significant steps towards a vision of a more inclusive society.
1 Pazzibugan, D. Z. (2021, February 15). 25,000 more workers laid off, 100,000 others got pay cuts in January. INQUIRER.Net. https://newsinfo.inquirer.net/1395780/25000-more-workers-laid-off-100000-others-got-pay-cuts-in-january
2 Philippine Institute for Development Studies, & Mina, C. D. (2013, January). Employment of Persons with Disabilities (PWDs) in the Philippines: The Case of Metro Manila and Rosario, Batangas (No. 2013–13). https://pidswebs.pids.gov.ph/ris/dps/pidsdps1313.pdf
3 Philippine Accessible Disability Services, Inc. (2021). Our History — PADS. Towards an Inclusive Society. https://pads.org.ph/our-history/