The campaign is led by Maymay Entrata, a proud Bisaya who rose to fame after winning Pinoy Big Brother and is enjoying success as a mainstay on ABS-CBN's ASAP.
A big dreamer herself, Maymay recalled her journey as she once dreamt to become a Rejoice shampoo girl. "We look up talaga yung mga girls in the commercial for shampoo. Sila yung parang naging inspiration namin. So when you become a shampoo girl it means you are gwapa and sikat. Using Rejoice is one of the best decisions I have made so far, I just need 1 product for smooth, healthy, and super bango na hair." This is because Rejoice has a triple action formula that serves as shampoo, conditioner, and perfume.
Maymay is joined by other local beauties as shampoo girls representing different regions in Visayas — Cebu's Nicole Borromeo who won Ms. Millennial 2019 in Eat Bulaga, Tacloban's Chelsea Fernandez who was crowned Reyna ng Aliwan 2018, and Iloilo's Kim Crizaldo who was a finalist in Miss Universe Philippines 2020.
The three beauties represent Central Visayas, Eastern Visayas, and Western Visayas, respectively.
With a modeling career and her love for the great outdoors Borromeo shared that Rejoice 3 in 1 makes her hair ready for anything. "With just one wash I can enjoy the beach and not worry about my hair because of Rejoice 3 in 1 — I have shampoo, conditioner, and perfume all in one."
Fernandez, who also won Miss Philippines Earth-Water in 2019, is a loyal Rejoice user. Fernandez is more than ready to embody the campaign #RejoiceGirlGwapaKaDai. "When Rejoice contacted me to become a shampoo girl, I really got excited. I said yes right away because I believe in the brand. When I started joining pageants, my hair got dry because of frequent changes in hairstyle, and going to a salon takes time and is expensive. With Rejoice 3 in 1, my hair looks healthy and shiny." she said.
"Basta Ilongga, gwapa" has been a popular mantra of the people from Iloilo. That's why for the former flight attendant Crizaldo, being a Rejoice shampoo girl magnifies the "gwapa" in her.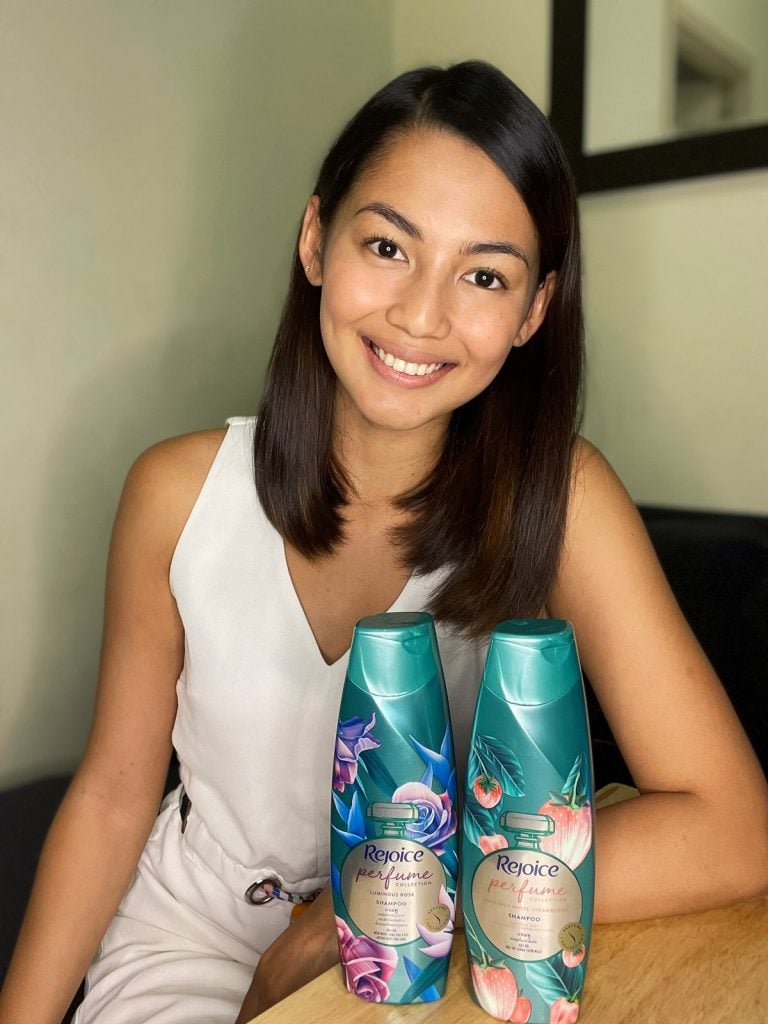 "I'm very happy and proud to represent the Ilonggas. Before when I was still a flight attendant, so with tight schedules of our flights I didn't have time to take care of my hair. When I switched to Rejoice, I no longer need other hair products to take care of my hair, just with Rejoice 3 in 1 ma humot, humok kag healthy na ang hair ko. So, Rejoice 3 in 1 is a convenient way for me to achieve a beautiful, shiny and healthy hair" Crizaldo shared during the welcome video initiated by Maymay to welcome the three Visayan beauties to kick off the #RejoiceGirlGwapaKaDai campaign.
As a region that proves to be a beauty pageant powerhouse coming from the consecutive success of Miss Universe Philippines winners who came from Cebu and Iloilo, Rejoice acknowledges the Visayas is a strategic setting for its newest campaign #RejoiceGirlGwapaKaDai.
In the coming months Rejoice 3 in 1 will amplify its campaign further, with its theme  #RejoiceGirlGwapaKaDai, so you may visit Rejoice Philippines on Facebook and Instagram page for more announcements and details.