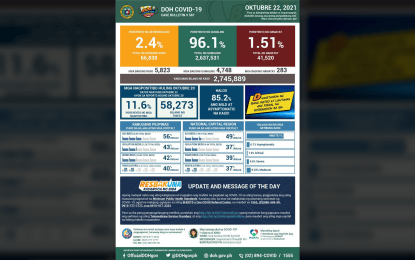 MANILA – The Department of Health (DOH) on Friday reported 4,748 new recoveries from coronavirus disease 2019 (Covid-19), with its total now at 2,637,531 or 96.1 percent of all known infections in the country.
In its daily Covid-19 bulletin, the DOH also reported 5,823 new cases, bringing the number of active cases to 66,838 or 2.4 percent of all recorded infections.
Of these active cases, most at 79.1 percent have mild symptoms, followed by those with moderate symptoms at 8.33 percent, the asymptomatic at 6.1 percent, those with severe symptoms at 4.6 percent, and those in critical condition at 1.9 percent.
It logged 283 new deaths caused by Covid-19, with the country's total casualties at 41,520 or 1.51 percent of all reported cases.
Based on the latest data on Covid-19 testing, a total of 58,273 tests were conducted on Wednesday with a positivity rate of 11.6 percent.
Hospitals in the country remain to have ample room for Covid-19 patients, with a total of 4,200 beds at intensive care units (ICU) at 56 percent occupancy, 21,200 isolation beds at 43 percent occupancy, 14,800 ward beds at 42 percent occupancy, and there are 3,300 ventilators at 40 percent utilization.
In the National Capital Region (NCR), there are 1,500 ICU beds at 49 percent occupancy, 4,900 isolation beds at 37 percent occupancy, 4,200 ward beds at 39 percent utilization, and 1,000 ventilators at 37 percent utilization.