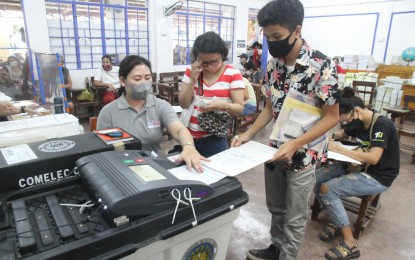 MANILA – Poll workers, most of them public school teachers, will continue to receive support from the government despite the veto on a bill seeking tax exemptions to their honoraria, allowances, and other benefits, President Ferdinand "Bongbong" Marcos Jr. said Monday.
In an interview with reporters in Pasig City, Marcos said his decision to veto the bill does not mean the government is disregarding the contributions and efforts of election workers.
"Hindi ibig sabihin nito na kinalimutan natin 'yung ating mga election workers (It does not mean that we are forgetting our election workers," he said.
Rather than giving new tax exemptions, Marcos said the government is trying to simplify tax payment procedures through targeted support.
"We don't have to put a new category sa pagbayad ng tax. Isama na lang natin sa beneficiary ang mga election workers (We don't have to put a new category in paying tax. We can just include election workers as among our beneficiaries)," he added.
He noted that introducing another tax category will create more chance of "leakage, confusion, and burden" for the Bureau of Internal Revenue (BIR).
He also said it will also create more problems and red tape.
Marcos emphasized the need to utilize the government's national identification (ID) system to facilitate the granting of subsidies to qualified beneficiaries.
"Pagka gumawa ka ng tax subsidy, hindi mo alam kung sino ang makakakuha dahil kahit 'yung hindi nangangailangan nakakakuha ng subsidy. Hindi naman dapat sila bigyan (If you make tax subsidy, you don't know who receives them because even those who do not need them receive subsidy. They should not be given)," he said.
Lea Alim Agustin, a poll worker and public school teacher from Tagaytay City, welcomed Marcos' proposal to include election workers in targeted subsidies, saying it would help them deal with the impact of the prevailing Covid-19 pandemic and rising oil and food prices.
"I think President Marcos has the heart to support all the teachers who are rendering their service with a patience and passion. I look forward to receiving this support he promised us," said Agustin, chair of electoral board of inspectors in Patutong Malaki Elementary School.
Rodelio Perez Jr., an election worker and public school teacher in Malabon City. said he continues to believe in and support the President's direction for the benefit of Filipinos.
"Even though the teachers were directly impacted by the tax exemption he vetoed, I still consider his choice was beneficial to the interests of everyone in light of the long-term effects," he said.
On Saturday, Malacañang announced that Marcos has vetoed the bill because it contradicts the objective of the government's Comprehensive Tax Reform Program.
"The measure runs counter to the objective of the government's Comprehensive Tax Reform Program to correct the inequity in the country's tax system and negate the progressivity of the reforms introduced under RA (Republic Act) 10963 or the TRAIN (Tax Reform for Acceleration and Inclusion) law. Moreover, the studies of pertinent government agencies on the revenue loss is too substantial an impact to be foregone," Marcos said in his veto message.
Marcos said the measure would be "inequitable to other persons performing similar activities and/or services" and urged Congress to enact measures that are "consistent with the thrust and commitment" of the administration toward national economic recovery.