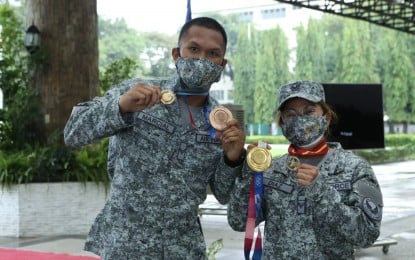 MANILA – The Armed Forces of the Philippines (AFP) on Wednesday conferred military awards on Olympic medalists and soldier-athletes, Air Force Staff Sgt. Hidilyn Diaz and Sgt. Eumir Felix Marcial during ceremonies held in Camp Aguinaldo, Quezon City.
Diaz, the first Filipino to win an Olympic gold medal in Tokyo Olympics, received the Outstanding Achievement Medal with Second Bronze Anahaw Leaf for her triumphant performance in the women's weightlifting (55kg category) competition.
She also received a plaque of recognition, the Philippine flag and a simple token from the military leadership.
"What Staff Sgt. Diaz has done was to bring hope and inspiration to millions of our fellow Filipinos, who up until this day continue to battle against the deadly Covid-19 pandemic," AFP deputy chief-of-staff Lt. Gen. Erickson Gloria, who represented AFP chief Lt. Gen. Jose Faustino Jr., during the recognition ceremony at the General Headquarters canopy area in Camp Aguinaldo, Quezon City.
Faustino is now in self-isolation after testing positive for the coronavirus disease 2019 (Covid-19) last Monday.
Marcial, a bronze medal winner in the men's boxing middleweight division, received the Chief of Staff, AFP Commendation Medal and Ribbon.
The military also acknowledged boxers Nesty Petecio and Carlo Paalam for winning silver medal in Tokyo.
"We hope that through this simple yet meaningful ceremony, we would be able to inspire our soldiers and civilian human resource, not only to be more active in sports, but also in the performance of their respective duties in protecting and securing the peace and stability of our country," Gloria said.
The AFP has a program of direct enlistment that enables athletes to join its ranks.
This provides them access to training facilities as well as includes them in the AFP payroll for their regular salaries.
As of July year, there are a total of 128 military athletes and coaches who compete in various sport events. Of which, 23 are from the Philippine Army, 64 from the Philippine Air Force and 41 from the Philippine Navy. (PNA)