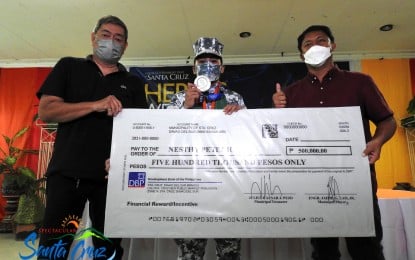 DAVAO CITY – Tokyo Olympics boxing silver medalist Nesthy Petecio received PHP350,000 cash incentive as she was welcomed by the provincial government of Davao del Sur headed by Governor Marc Cagas on Tuesday.
"We gave her recognition for her achievement and as a proud daughter of Davao del Sur. She said she is not expecting these citations that we prepared for her," Cagas told the Philippine News Agency (PNA) in an interview.
He said Petecio also told him that seeing the people of Davao del Sur welcoming her was more than enough.
"Money is not always important, it depends upon the person more often it is the appreciation or honor that is being appreciated or remembered," the governor said greatly impressed by Petecio's humility.
"She told me that she tried a lot of tournaments which she eventually failed. But I admire her fighting spirit when she said that she will not stop fighting until she will win," Cagas added.
As part of the incentives from the provincial government, the governor also offered scholarships to some of the children of Petecio's siblings, which was her only request.
Meanwhile, the lady amateur boxer was warmly welcomed in her hometown Sta. Cruz, Davao del Sur on Monday afternoon.
The local government unit (LGU) of Sta. Cruz said in a statement that a "hero's welcome" was given to the national athlete headed by Mayor Jaime G. Lao, Jr. who handed a cash incentive worth PHP500,000.
A motorcade with Petecio and hosted by the LGU made its way from the municipality's Barangay Inawayan to the last village of Barangay Bato for the people to see the successful Olympian.
"She was also accorded with a Resolution of Commendation by the LGU through a Sangguniang Bayan Resolution for bringing pride and honor to the Municipality of Sta. Cruz," the statement added.
On the same day, Petecio was also welcomed by the Philippine Coast Guard (PCG) Southeastern Mindanao commander Commodore Allan Corpuz as she paid a visit to the unit in time for the celebration of the National Heroes Day.
During a brief ceremony, she was also promoted to Petty Officer Third Class.
"Chief Petecio was an epitome of hard work and determination in achieving one's goal. This attitude is vital to every coast guardian in the performance of its duty," Corpuz said.
She thanked the PCG and said she is excited to perform her duty as a servicewoman under the unit.
"I am thankful for the warm welcome of my second family (PCG) to me. Philippine Coast Guard opened its door to me even before I was unpopular. l am excited to perform my duty as a servicewoman in my new home," she said in the vernacular during an interview over PTV Davao.
Petecio won a silver medal in the inaugural women's featherweight event at the 2020 Summer Olympics, becoming the first Filipino woman to win an Olympic medal in boxing. (PNA)