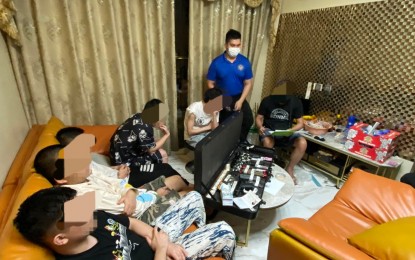 MANILA – Authorities arrested eight Chinese nationals involved in the illegal sale of firearms and kidnapping in Pasay City, Philippine National Police (PNP) chief Gen. Rodolfo Azurin Jr. said on Thursday.
In a statement, Azurin said five Chinese nationals were arrested in an entrapment operation by members of the Criminal Investigation and Detection Group (CIDG) at around 10:30 p.m. Wednesday in a townhouse unit at the corner of 250 F. Sanchez St. and P. Villanueva St., Pasay City.
During the operation, three more Chinese nationals were also arrested after they tried to prevent the arrest of their compatriots by blocking their car in the driveway and locking the door of the townhouse unit.
Recovered from the townhouse unit were a Colt Defense 5.56mm M4 Carbine mounted with sniper scope and silencer; one Glock 19 9mm pistol; a caliber .45 pistol, various magazine assemblies, several live rounds of assorted ammunition, taser, handcuffs, laptops, mobile phones, assorted ID cards; blank cards and assorted Chinese ATM cards.
According to the CIDG report, the arrested suspects were allegedly involved in illegal recruitment, kidnapping, and gunrunning operations within Metro Manila.
"Another job well done to our operating units. With this successful operation against law offenders, we are continuously appealing to the public to stay vigilant and denounce any situation that threatens public order and tranquility. Our fight against crime is not just the responsibility of our police but it is everyone's shared commitment," Azurin said.
The suspects and recovered pieces of evidence were brought to CIDG Regional Field Unit- National Capital Region (NCR) office for proper disposition and documentation.
Meanwhile, police investigators are now preparing charges against the suspects for violations of Republic Act (RA) 10591 or the Comprehensive Firearms and Ammunition Regulation Act, RA 8484 or Access Devices Regulation Act of 1998, and Presidential Decree 1829 or obstruction of justice. (PNA)