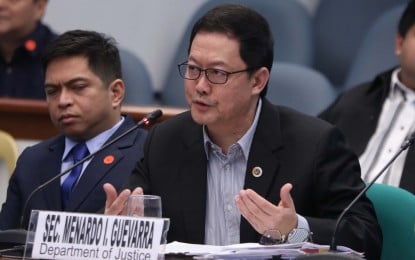 MANILA – President Rodrigo Duterte's order to go after law enforcers who violated procedures during anti-illegal drug operations will extend to whoever will be at helm of the Philippine National Police (PNP).
Department of Justice (DOJ) Secretary Menardo Guevarra said Tuesday he expects the successor of PNP chief, Gen. Guillermo Eleazar, will strictly comply with the President's directive.
"The President has a standing order to the DOJ and the PNP to review the conduct of the drug war and to impose sanctions upon those who went beyond the bounds of the law," Guevarra told reporters via text message.
Eleazar will reach the mandatory retirement age of 56 on November 13 after serving six months as PNP chief.
Guevarra expects the Memorandum of Agreement between the National Bureau of Investigation and the PNP on joint probes of drug war deaths will be signed before Eleazar steps down.
The DOJ last week released information on the initial batch of 52 cases it is reviewing as part of the government's policy of transparency on the anti-illegal drugs campaign and to assure the victims' kin and loved ones that the deaths are being investigated.
The matrix included docket numbers, names of the deceased, places and dates of the incidents, and the review panel's summary of observations.
The most number of deaths in a single incident was during an operation in Liloy, Zamboanga del Norte on July 29, 2016 when three died.
The DOJ review panel noted that according to the medico-legal report, the victims appeared to have been shot at close range.