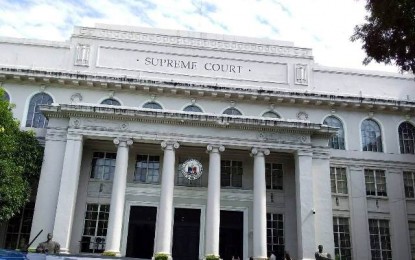 MANILA – The Supreme Court (SC) cleared eight Philippine Navy officers who were dismissed from the service following the death of Ensign Philip Andrew Pestaño on board the cargo ship BRP Bacolod City in 1995.
In its resolution promulgated on May 14, 2021 and made public online on July 12, the SC's First Division reversed the Oct. 11, 2013 decision of the Court of Appeals (CA).
It also set aside the 2011 order of the Office of the Ombudsman in the administrative case against the eight petitioners, led by retired Navy Capt. Ricardo Ordoñez.
The others who were charged with grave misconduct were Cdr. Reynaldo Lopez, HM2 Welmenio Aquino, Lt. Cdr. Luidegar Casis, Lt. Cdr. Afrederick Alba, MR2 Sandy Miranda, Lt. Cdr. Joselito Colico, and retired Petty Officer 2CL Mil Leonor Igcasan.
They were implicated after an investigation by the Senate and the Armed Forces of the Philippines found that the 23-year-old Pestaño, before his death by a gunshot wound to the head inside his cabin, confronted the officers in connection with the unauthorized cargo of lumber being transported by the ship.
A suicide note was allegedly found but Pestaño's parents insisted it was murder.
The SC said "neither the Ombudsman's joint order nor the CA decision clearly established any acts that could constitute grave misconduct".
The Ombudsman also "failed to specify the individual acts or omissions of the petitioners", the SC added.
The Navy officers were first cleared in 2009 by Overall Deputy Ombudsman Orlando Casimiro, saying there was "no substantial evidence to show that [their] actions transgressed some established and definite rule of action or constitute unlawful behavior or gross negligence".
Pestaño's parents contested the dismissal of the case.
Three years later, Ombudsman Conchita Carpio-Morales reversed and set aside Casimiro's resolution and ordered charges be filed against the Navy officers.
The officers were also ordered dismissed from service.
The SC ruled that "a decision with absolutely nothing to support it is a nullity", noting that the Ombudsman's 2011 ruling "failed to support its conclusion of administrative liability with sufficient factual and legal basis".
The SC said the Ombudsman's ruling did not state how the "finding of probable cause ties into the finding that petitioners are guilty of grave misconduct. There was no attempt in the joint order to establish the parameters of what constitutes grave misconduct, much less if such parameters applied to the petitioners". (PNA)