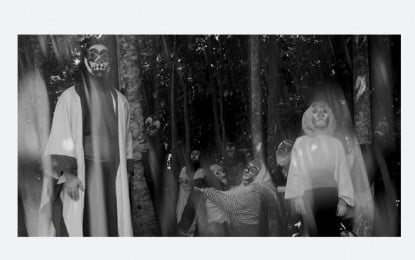 BACOLOD CITY – A pandemic-inspired short film helmed by awarding-winning director Mark Raymund Garcia of Sagay City, Negros Occidental is taking center stage in the 32nd Singapore International Film Festival (SGIFF) this coming November.
Garcia's "Mga Bag-ong Nawong (sang Damgo kag Katingalahan)" or The New Faces (of Dreams and Mysteries) is one of the 23 entries in the Southeast Asian Short Film Competition, and one of the only three from the Philippines.
"I am honored to compete alongside two other Filipino film makers," the 25-year-old former news reporter said after the shortlist was released by organizers of the largest and longest-running film event in Southeast Asia since 1987 on Tuesday.
Lav Diaz, whom Garcia considers as "one of my idols in Philippine Cinema", is also in contention with his entry "Himala: A Dialectic of Our Times" as well as Shireen Seno, who directed "To Pick a Flower".
Garcia told the Philippine News Agency (PNA) on Wednesday that despite the challenges posed by the coronavirus disease 2019 (Covid-19) pandemic, he went on to pursue his passion for making films.
"The pandemic is not a hindrance. I'm thankful to the people who helped me – from our producers down to anonymous donations," he added.
Garcia's 11-minute flick, shot between September and November in Sagay City last year, is listed with the entries from Indonesia, Singapore, Thailand, Taiwan under the Southeast Asian Short Film Competition-Programme 2, where films are described to demonstrate a range of interdisciplinary expressions, including dance, performance, traditional craft, digital animation, and sound design.
"A pandemic confronts us with a new masked reality. As masked personas take over, we question what has come before and what is to come," a blurb of the "The New Faces (of Dreams and Mysteries)" states.
Running from November 25 to December 5, this year's SGIFF, which showcases over 100 films from more than 40 countries, will be held in cinemas only, and will not have online screenings.
Garcia said he won't be able to fly to Singapore during the event due to Covid-19 travel restrictions but looks forward to the film's international premiere on November 27.
"The New Faces (of Dreams and Mysteries)" is one of the 16 short films in the Philippines funded by the National Committee on Cinema of the National Commission for Culture and the Arts for its Eksena Cinema Quarantine Project for 2020-2021.
Before being shortlisted in the Singapore film festival, Garcia's work has been recognized in various competitions across the country.
The film was the Gawad Alternatibo's 2021 Best Regional Entry and 2nd Best Film (Experimental Category), and a finalist in the 1st Sine Isla: LuzViMinda of Pista ng Pelikulang Pilipino of the Film Development Council of the Philippines, and was also featured in exhibitions at Bakunawa Cinema of the Young 2021 and Nabunturan Film Expo 2021.
Garcia's directorial debut "Buding Ang Babayi Nga Naglutaw (Buding, The Woman Who Floated) was also a top winner in the Sine Negrense: Negros Island Film Festival and Cine Kasimanwa: Western Visayas Film Festival in 2019, and a Jury Prize winner in the Bamasa Film Festival 2020. (PNA)