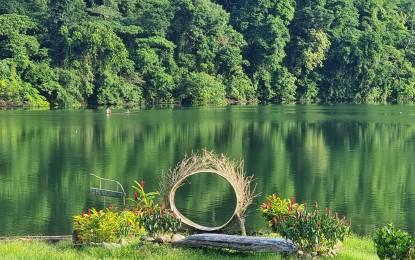 TACLOBAN CITY – The Protected Area Management Board of the Mahagnao Volcano Natural Park (MVNP) in Burauen, Leyte has approved proposed studies on phytoplankton organisms and butterflies within the site.
Loreta Baldonaza, the officer in charge of the Community Environment and Natural Resources Office based in Palo, Leyte, said on Thursday the studies by the University of Santo Tomas (UST) and the Philippine Science High School will be done within the year.
The UST Graduate School will collect samples at the lake to identify phytoplankton organisms that abound in the area.
"According to the researchers, the presence of these microorganisms indicates the water quality of the lake aside from its importance to the ecosystem. The realization of the study will translate to better preservation efforts for the Mahagnao Lake," Baldonaza said in a phone interview.
Also approved for implementation is the proposal to identify the diverse butterfly species in different vegetation types within the protected area by the Grade-12 students from the Philippine Science High School-Eastern Visayas campus.
The study will produce a butterfly catalog, among others, for the information of visitors.
"This will be very first study on presence of butterflies in Mahagnao. The presence of different species of butterflies in this area is an indication that there are still plants that are providing food to them," she added.
Proclaimed as a national park in 1937, MVNP is endowed with different natural attractions -- a lake, falls, multi-colored mud, virgin forests, and a lagoon.
In 2018, the park has been proclaimed a protected area through legislation.
Mahagnao, located 860 meters above sea level, is 18 kilometers away from the town center of Burauen.