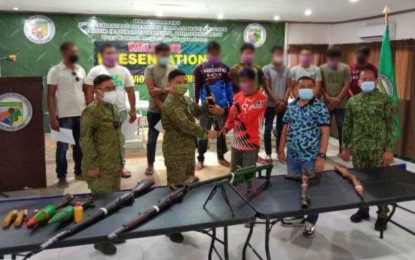 CAMP SIONGCO, Maguindanao – Ten more extremists of the Bangsamoro Islamic Freedom Fighters (BIFF) yielded to military and local officials in Maguindanao, bringing to 130 the total number of surrenderers in Central Mindanao since January.
Col. Pedro Balisi, commander of the Army's 1st Mechanized Brigade, and Mayor Edris Sindatok of Datu Saudi Ampatuan welcomed the returnees during simple surrender rites held at the military unit's headquarters in Barangay Kamasi of Ampatuan town on Tuesday afternoon.
The surrenderers turned in six assorted firearms – a caliber .50 Barrett sniper rifle, a rocket-propelled grenade launcher, one M16 rifle, one M1 Carbine rifle, two Garand rifles – and ammunition.
Balisi said the surrenderers belonged to the BIFF-Karialan faction operating in the adjoining towns of Shariff Aguak, Datu Saudi Ampatuan, Mamasapano, and Shariff Saydona Mustapha, all in Maguindanao.
"The latest batch of surrenderers was convinced to lay down their arms by former comrades who earlier yielded and are now living normal lives with their families," he said.
For security reasons, Balisi declined to disclose the identities of the surrenderers.
In a phone patch interview with reporters here, a certain alias Ahmad, one of the surrenderers, said they surrendered after they grew tired of fighting a lost cause and to be with their families.
"We saw the benefits of the government programs that were being enjoyed by our comrades who earlier yielded, prompting us to abandon the BIFF struggle to be reunited with our loved ones," Ahmad said in the vernacular.
Records of the Army's 6th Infantry Division here showed that since January, 130 BIFF extremists have surrendered to military and police authorities in Central Mindanao.
Initially, the latest batch of surrenderers is set to undergo the required process to avail of livelihood packages under the AGILA-HAVEN (Anak na may GInintuang LAyunin upang Hintuan Ang Violent Extremism Ngayon) program of the provincial government.
Since its introduction in 2019, a total of 211 former violent extremists have received various assistance from the AGILA-HAVEN program.
The province of Maguindanao, led by Governor Bai Mariam Sangki-Mangudadatu, earlier declared the BIFF as "persona non grata", prompting communities and their leaders to condemn the atrocities and presence of the extremist group in the area. (PNA)