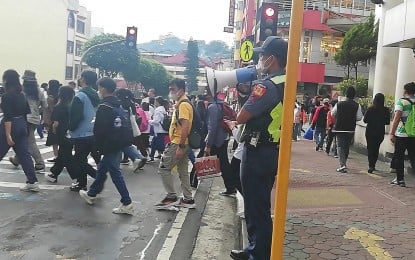 BAGUIO CITY – As tourist arrivals have breached pre-pandemic numbers, the City Tourism Office has deployed safety marshals who will remind the public to comply with city ordinances and laws.
"We are encouraging that they too should play their part to also be responsible," city tourism officer Aloysius Mapalo said in a phone interview on Monday.
Mapalo said safety marshals are stationed even in establishments to advocate responsible and sustainable tourism.
"(There are) staff to be always reminding clean as you go, do not throw trash anywhere, follow traffic rules," he added.

As a non-smoking city, Baguio prohibits everyone from smoking or using vape in public places, establishments and even in outdoor parks.

Illegal parking, jaywalking, littering in public, not picking flowers, spitting and urinating anywhere is also strictly implemented in the city.

Mapalo said the anti-obstructive walking ordinance that prohibits any person from using a gadget --cellular telephone or any electronic device-- while walking is also being enforced.

Safety marshals also remind tourists to be mindful of their valuables when strolling around the city, he added. (PNA)