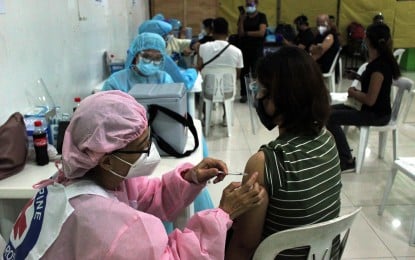 MANILA – The chairman of the House of Representatives Committee on Labor and Employment on Thursday thumbed down the policy of making coronavirus disease 2019 (Covid-19) vaccination a mandatory condition for work being implemented by some businesses.
1PACMAN Party-list Rep. Enrico Pineda said the "no jab, no job" policy requiring a person to be vaccinated so that he or she may be able to make a living is "not right".
"Although I am in favor of vaccination so that we can attain herd immunity, I don't believe that it should be forced upon our people. Restricting access to a livelihood on the basis of one's choice not to be vaccinated is violative of their basic right to choose, their right to free will. My body, my decision," Pineda said.
He said he believes that neither the government nor an employer should be able to dictate what individuals must do to their bodies.
"If a person chooses not to take the Covid-19 vaccine, due to any reason they may have, then we should respect that choice. We should not treat them any different. Of course, they should still follow the safety protocols and take care of themselves, as the virus is still around and anyone can still contract and spread it," Pineda said.
He noted that the Centers for Disease Control (CDC), composed of specialists "working tirelessly" to help fight the virus, is also not in favor of the "No Jab, No Job" policy.
"The experts do not believe that a person must be vaccinated even if they do not want to. I support the right to choose and I support the CDC and its initiatives in preventing the spread of the Covid-19 virus," he said.
Rizal Rep. Fidel Nograles, for his part, called on the Department of Labor and Employment (DOLE) to investigate employers imposing the "no vaccine, no salary" scheme as it unduly penalizes workers who have no access to Covid-19 vaccines.
Nograles made the request following reports that some companies allegedly refused to release the salaries of unvaccinated employees.
"Lalong magdurusa ang mga arawan ang sahod sa ganitong sistema (Daily-wage earners would further suffer with this kind of system). I urge the Department of Labor and Employment to investigate this matter thoroughly and immediately put a stop to such an insensitive and illegal scheme," he said.
Nograles said until there is a law on mandatory vaccination, the policy is illegal and discriminatory.
"Covered establishments and employers shall endeavor to encourage their employees to get vaccinated. However, any employee who refuses or fails to be vaccinated shall not be discriminated against in terms of tenure, promotion, training, pay, and other benefits, among others, or terminated from employment. No vaccine, no work policy shall not be allowed," DOLE Labor Advisory 03-21 read.
Last week, Presidential Spokesperson Harry Roque said there was a slim chance that President Rodrigo Duterte would order the mandatory inoculation against Covid-19 as more Filipinos want to get vaccinated.
"But right now, because the supply (has) just arrived, let's see, because I think the level of individuals who want to be vaccinated is already very high so baka hindi pa naman kinakailangan sa ngayon (perhaps, the mandatory vaccination is not yet necessary)," Roque said.
He said the government's current priority is to administer the vaccines to those who are willing.
San Jose del Monte City Rep. Rida Robes earlier filed House Bill 10249, which mandates the administration of Covid-19 vaccines to all eligible Filipinos and residents of the Philippines. (PNA)