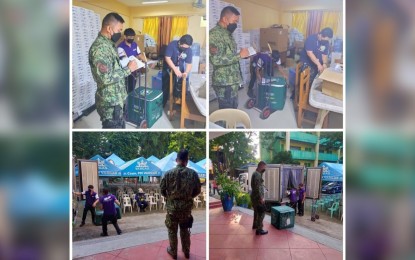 MANILA – Over 2,000 fully-vaccinated cops from five National Capital Region Police Office (NCRPO) police districts have been deployed to provide support and security in vaccination centers as Metro Manila is on its second week of enhanced community quarantine.
NCRPO chief Maj. Gen Vicente Danao Jr. said Tuesday the deployment would help in the smooth vaccine rollout by ensuring that persons observe social distancing and adhere to minimum public health standards.
"Facing the challenge and threats of the current pandemic, we had been deploying our personnel not only at quarantine control points, quarantine facilities but we also deployed policemen as convoy security for vaccines, route security for vaccines, and to other areas of concern for the safe delivery of the vaccines," Danao said in a statement sent to reporters.
Philippine National Police chief Gen. Guillermo Eleazar said as of Aug. 17, a total of 81,125 or 36.51 percent of all PNP personnel are fully vaccinated while 95,345 or 42.92 percent are just awaiting the second dose.
He added that there are only 45,700 or 20.57 percent of police personnel who have not been vaccinated.
Another 176 new cases of Covid-19 among police personnel have been recorded, bringing the total number of cases to 32,631 with 1,985 active cases. (PNA)