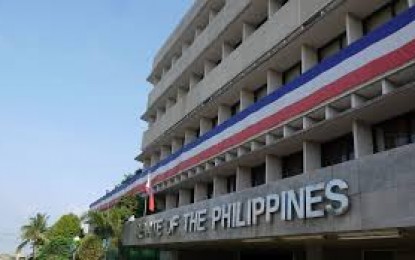 MANILA – Communications Secretary Martin M. Andanar appealed to the Senate to support the proposed PHP1.91 billion budget of the Presidential Communications Operations Office (PCOO) and its attached agencies to better communicate the government's achievements to the Filipino people.
"Your support will help us continue to communicate hope to our people that better days are coming for the Philippines," Andanar told the members of the Senate committee on finance during the budget deliberation on Thursday.
Andanar said the proposed budget is approximately 18 percent higher than the PHP1.62 billion appropriations this year.
He said the budget will be used to continue the PCOO's mission "being the primary vehicle for consciousness raising, constituency building, and social mobilization in support of the policies programs and policies of the presidency and to serve as a tool for informing, educating and enlightening the citizenry about the importance of national importance and deepen their civic engagement."
Andanar said he expects the operationalization of the Government Communication Academy (GCA) by next year.
He said the GCA will house news gathering services as well as facilities for students to develop skills for government information officers.
The PCOO chief also said part of the proposed budget will be used for the completion of a Visayas Media Hub and the transfer of the PCOO offices from the New Executive Building (NEB) which is under renovation for eventual use of Office of the President (OP) offices.
Andanar is also seeking PHP82 million for upgrade and repair of the government-run radio stations in different areas of the country, saying of 29 operating stations, 10 are operating in full power, eight in medium power and 11 in low power.
Getting the biggest share of the proposed budget for next year is the PCOO proper at PHP740.62 million, followed by the Bureau of Broadcast Services getting PHP456.03 million, and the Philippine Information Agency getting PHP333.54 million.
The Presidential Broadcast Staff – Radio Television Malacañang will get the fourth largest piece of the pie at PHP171.86 million, followed by the News and Information Bureau at PHP129.20 million, while the Bureau of Communications Services and National Printing Office will get PHP70.59 million, and PHP9.13 million, respectively.
The budget does not include the subsidy allocation for its two attached government-owned and -controlled corporations (GOCCs) --the People's Television Network, Inc. (PTNI) and Intercontinental Broadcasting Corporation (IBC).
The proposed amount of PHP104.94 million will go to PTNI to support its continuing modernization program to improve its reach and the quality of its programs, while PHP73.69 million will go to IBC to support its maintenance and other operating expenses.
This brings the proposed budget of the PCOO as a department plus the subsidy of its two attached GOCCs to PHP2.09 billion. (PNA)