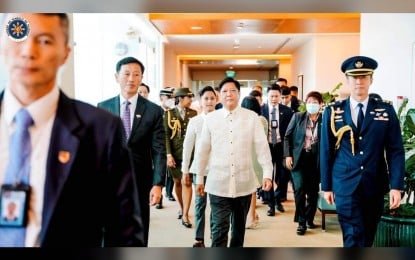 MANILA – The Philippines and Singapore are seeking "closer cooperation" to quicken the recovery from the impacts of the coronavirus disease 2019 (Covid-19) pandemic.
In a joint statement following President Ferdinand Marcos Jr.'s state visit to Singapore on Sept. 7, the two countries agreed to "continue enhancing bilateral cooperation" and emerge from Covid-19 "stronger together".
"Both sides discussed the impact of the Covid-19 pandemic, and recognized the importance of closer cooperation to enable both countries to emerge stronger together from the pandemic in an inclusive and sustainable manner," the statement released by the Department of Foreign Affairs (DFA) read.
The two nations will explore ways to improve supply chain connectivity and resilience so as to boost mutual economic resiliency.
Economic cooperation between the two countries has expanded despite the disruption brought by the Covid-19 pandemic.
According to the DFA, bilateral trade amounted to USD16.5 billion in 2021, a year-on-year increase of 17.2 percent. Singapore was also the Philippines' largest foreign investor in 2021, with investments totaling USD1.5 billion.
As of 2020, the country's cumulative foreign direct investment into the Philippines was USD6.9 billion, mainly in real estate and hospitality, telecommunications, transport and logistics, consumer goods, and utilities.
"The two sides intend to build on this solid foundation to further deepen and broaden our cooperation to bring greater benefits to our peoples," the statement added.
"The Leaders welcomed the ongoing opportunities for the Philippines and Singapore to work together in growth areas, including the digital economy, agri-trade, infrastructure development, innovation, urban solutions, sustainability and consumer business," it said.
The now signed Philippine-Singapore memorandum of understanding to develop the New Clark City through technology transfer and partnerships in urban and smart city solutions is also expected to further boost trade and investment flows.
Both parties are also working to expand their existing bilateral Air Transport Agreement, a move seen to increase connectivity and opportunities for growth.
Meanwhile, Marcos, Singapore President Halimah Yacob, and Prime Minister Lee Hsien Loong welcomed the support both countries provided to each other at the onset of the pandemic, including medical supplies and equipment.
The leaders reaffirmed the strong people-to-people ties, with Halimah thanking Filipino healthcare workers and frontline personnel for their contributions to Singapore's Covid-19 response.
"Both Leaders also welcomed the issuance of a Joint Communique on the Recruitment of Filipino Healthcare Workers between the Department of Migrant Workers of the Philippines and the Ministry of Health of Singapore, which will pave the way for the continued deployment of Filipino healthcare professionals to Singapore as well as greater bilateral cooperation in the field of healthcare," the statement read. (PNA)