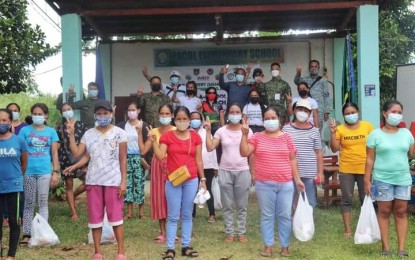 BACOLOD CITY – The Philippine Army's 79th Infantry Battalion (79IB) has adopted three public elementary schools in the northern part of Negros Occidental as part of several activities to mark its 15th founding year on Aug. 16.
The beneficiaries, located in each of the three congressional districts under its jurisdiction, include the Palampas Elementary School in Barangay Palampas, San Carlos City, first district; Pacol Elementary School in Barangay Baviera, Sagay City, second district; and Sto. Rosario Elementary School in Barangay Bagtic, Silay City.
1Lt. Dansan Camua, civil-military operations officer of the 79IB based in Sagay City, told the Philippine News Agency (PNA) on Monday that after the launching in Palampas Elementary School on Aug. 17, the initiative is also expected to start in the two other schools next month.
To implement the program in the first adopted school, Lt. Col. J-jay Javines, commanding officer of 79IB, signed a memorandum of agreement with teacher-in-charge Ramelo Lopez with the commitment to work together in providing quality and relevant education to students as stated in Republic Act 8525 or the Adopt-A-School Act of 1998.
For its part, the Army, through the support of partners and stakeholders, pledged to conduct repair and maintenance of dilapidated school facilities, improvement of the water system, and construction of feeding center, among others.
After the signing rites, the 79IB also conducted a community outreach that benefited the families of some 75 pupils of Pacol Elementary School.
The families received food packs and availed of the feeding program, and some beneficiaries were also given a free haircut.
"We are very fortunate to have been selected as a beneficiary," Lopez said.
In a statement, Javines thanked the various partners and stakeholders for their continued support and cooperation to the accomplishments of the 79IB's mission to sustain peace and development in Northern Negros.
"The Masaligan (trustworthy) troopers will remain steadfast and committed to serve the Negrenses with utmost professionalism and excellent service that they truly deserve," he added. (PNA)