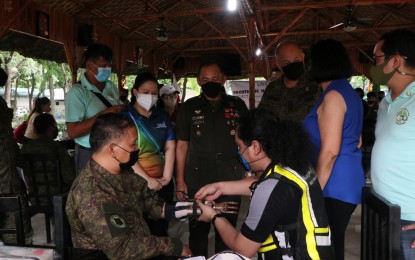 MANILA – The Philippine Army (PA) on Friday announced that about 50 amputees have benefitted from the free prosthetic hands and arms provided by two non-government organizations (NGOs).
"Amputee soldiers who risked their lives fighting in the front lines received new hand and arm prostheses in a turnover ceremony at the Civil-Military Operations Regiment (CMOR) headquarters, Fort Bonifacio, Metro Manila on July 13, 2022," Army spokesperson Col. Xerxes Trinidad said in a statement.
Trinidad noted that the GMA Kapuso Foundation and LN4 Hand Foundation, an international donor of prosthetic hands, turned over the prostheses to more than 50 recipients consisting of amputee soldiers, Citizen Armed Force Geographical Unit (Cafgu) Active Auxiliary, military dependents, and civilians.
"Army General Hospital medical personnel also attended the turnover ceremony to facilitate prostheses fitting and maintenance," he said.
Meanwhile, CMOR commander, Brig. Gen. Arvin R. Lagamon, thanked the donors on behalf of the beneficiaries.
Lagamon likewise called for a sustained and meaningful partnership between the Army and NGOs.
PA Chief, Lt. Gen. Romeo S. Brawner Jr., said the donation would boost the morale of amputee troops who once risked life and limb fighting on the front lines. (PNA)