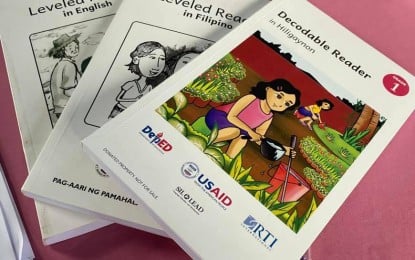 ILOILO CITY – Some 15,000 to 20,000 Kindergarten to Grade 3 learners from 50 public schools under the Schools Division of Iloilo City will each receive supplementary reading materials this school year.
Iloilo City Schools Division Superintendent Dr. Ma. Luz De los Reyes, in an interview on Wednesday, said the provision of supplementary learning materials is part of the Advancing Basic Education in the Philippines (ABC+) project of the United States Agency for International Development (USAID) in partnership with the Department of Education (DepEd) and the Research Triangle Institute International.
"ABC+ was launched at the central office early of 2019. Their focus is on literacy and numeracy from Kindergarten to Grade 3," she said.
The Iloilo City Schools Division is one of the four pilot areas in Western Visayas together with divisions of Roxas City, Escalante City, and Negros Occidental.
The five-year program started with the training of teachers, illustrators, and trainers to come up with mother tongue-based multilingual education (MTB-MLE) materials.

The materials were first reproduced last school year. This school year they are provided in book form.
All target learners are provided with Hiligaynon reading materials, additional reading materials in Filipino are given to Grade 2 and English for Grade 3 learners.
The materials also come with a parent's manual.
"The materials are beautiful because the writers are our teachers. It is quality assured by the regional office and experts also," she said.
A ceremonial handover was held on Tuesday but the bulk of the materials will be delivered to the doorstep of their schools.
De los Reyes added that the USAID has partnered with the 301st Infantry Brigade of the Philippine Army to deliver the books in schools.
"We really expect to increase literacy and numeracy in the primary years," she added.
Meantime, with the planned expansion of the project in other divisions next year, they are already anticipating the need to look for funds.
"We are banking on the special education fund to fund this. But looking into the materials that we are providing, which are quality assured, I don't think partners and sponsors will not get support," she said. (PNA)