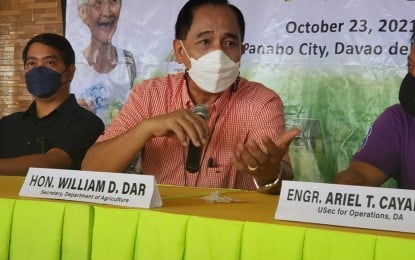 PANABO CITY, Davao del Norte – The Department of Agriculture (DA) has pushed for a PHP40-billion additional budget for next year to jumpstart and unleash the potential of the sector especially during the time of the pandemic.
The DA is seeking more funds after its proposed budget for 2022 was reduced to PHP91 billion from P231 billion.
"That's a basic minimum. We can do a lot (projects and programs) if the budget is higher. If they add another PHP40 billion, we will be more than happy," DA Secretary William Dar said in a press briefing here Saturday.
The budget, however, is still 1 percent higher than the department's 2021 budget of PHP90.06 billion, he said.
Meanwhile, Dar cited measures to be taken to arrest the rising prices of fertilizer and farm inputs which are being asked by Senator Juan Miguel Zubiri.
"I just want to stress that this is a global phenomenon. All over the world, the price of fertilizer doubles because the big economies are the ones buying more and that's tightening the supply of fertilizers and increasing the price. The problem in our country is, we do not have a factory of fertilizers here," he said.
Dar said DA will have to adopt a balanced fertilization strategy wherein the supply of fertilizers will not only be inorganic but also added with organic inputs.
"There are two sources of organic fertilizer and biofertilizer. There is a formulation that can reduce about 50 percent cost of fertilizer. Organic farming or composting is also one of the measures and part of the whole strategy," Dar said.(PNA)