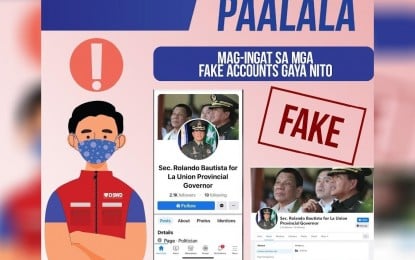 MANILA – A Facebook account that uses the photo of Department of Social Welfare and Development (DSWD) Secretary Rolando Bautista to inform of his alleged bid for public office is bogus.
In a message to the reporters on Monday, the DSWD clarified that Bautista does not have a Facebook account and he is not running for higher office in the May 9, 2022 elections.
"The Secretary has no Facebook account, and he will not run for any position in the upcoming elections," the DSWD said.
The bogus Facebook account "Sec. Rolando Bautista for La Union Provincial Governor" also has posts on ending anarchy and dynasty in the country.
Some netizens used the account, which has already over 2,000 followers, to request for inclusion in DSWD programs.
DSWD's official Facebook page https://www.facebook.com/dswdserves or @dswdserves, which has more than 1.1 million followers, posts official announcements and updates on various services and programs.
The agency is already investigating the post.