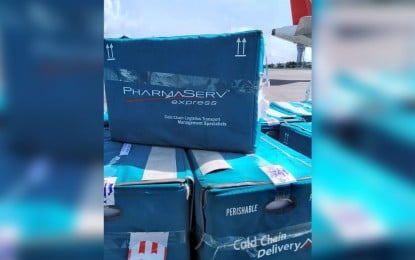 ILOILO CITY – Four areas in Western Visayas have been identified as priority deployment areas for the Johnson & Johnson-manufactured Janssen vaccines, the Department of Health Western Visayas Center for Health Development (DOH WV CHD) said.
Data from the Regional Vaccine Operation Center (RVOC) showed that 289,900 doses of the one-dose vaccines will be delivered to the region on July 19-20.
"We already have an allocation list for all provinces and two highly urbanized cities. The target priority group is A2 and A3," DOH WV CHD medical officer Dr. Marie Jocelyn Te said in a virtual presser on Monday.
Based on the allocation, the provinces of Antique and Iloilo and the cities of Bacolod and Iloilo have been identified as priority areas. Antique will receive 25,000 doses; Iloilo province, 80,000; and Bacolod and Iloilo cities, 30,000 doses each.
The rest of the allocations include 70,000 doses for Negros Occidental; 30,000 for Capiz; 15,000 for Aklan; 5,000 for Guimaras; and 4,900 as buffer doses.
On July 19, 25 boxes of J&J containing 37,980 vials were delivered via Iloilo International Airport for the province and city of Iloilo and the DOH WV CHD, while Bacolod City and Negros Occidental received 6,000 and 14,000 vials, respectively.
In a presser last week, DOH WV CHD regional director Dr. Adrian Suba-an said the previous agreement was for the J&J vaccines to be used in geographically isolated and disadvantaged areas (GIDA).
However, changes were made due to the discovery of the Delta variant of the coronavirus disease 2019 (Covid-19) strain in Antique.
"Our concern is not to allow the Delta variant to spread all over Western Visayas. We have to determine, see the bigger picture, cover immediately contain cases," he said.
The cities of Iloilo and Bacolod have been identified as priority areas while Iloilo province could not be separated from the city, he said.
The city and province of Iloilo have been placed under enhanced community quarantine (ECQ) until the end of this month.
Meanwhile, in addition to the J&J vaccines, also included in the shipment via Iloilo International Airport were two boxes of the AstraZeneca vaccines, equivalent to 770 vials. (PNA)