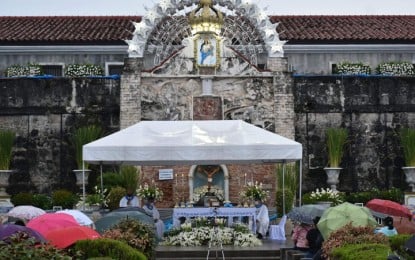 ZAMBOANGA CITY – This city will observe a special non-working holiday on Tuesday in celebration of the feast of the city's patroness, Our Lady of the Pillar, as the local government assured the public that safety and health protocols will still be enforced during all religious activities.
The declaration of a special non-working holiday every October 12 here is pursuant to Republic Act 7350, approved on April 2, 1992, and gives devotees the opportunity to pay homage to the patroness.
RA 7350 was authored by the late Congresswoman Maria Clara Lobregat, the representative of the then lone congressional district of this city.
The city government on Monday said adjustments have been made in the conduct of activities related to the Fiesta Pilar in compliance with the directive of the National Inter-Agency Task Force on the Management of Emerging Infectious Disease (IATF-EID).
The implementation of curfew and quarantine passes is lifted on October 11 and 12 to allow the faithful and pilgrims to visit the shrine of Our Lady of the Pillar. However, only 30 persons will be accommodated at one time at the shrine in compliance with the minimum health protocol amid the health pandemic
Instead of the procession, a pilgrimage of Our Lady of the Pillar to different medical facilities is scheduled at 6 p.m. Monday, October 11.
On the other hand, the Archdiocese of Zamboanga announced that all six masses scheduled on October 12 are canceled, while the Pontifical Mass at 5 p.m. will be live streamed, with no congregation.
The shrine will be closed from 4 p.m. to 6:30 p.m. on October 12 to pave way for the Pontifical Mass. (PNA)