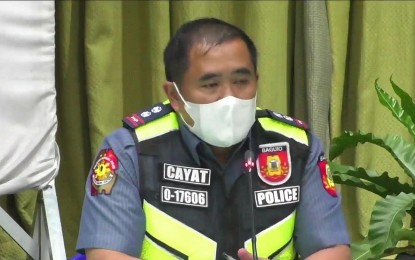 BAGUIO CITY – An officer of the city police has urged the public to be responsible when posting on social media and avoid sharing unverified information that could trigger public fear or alarm.
Lt. Col. John Cayat, deputy city director for operations of the Baguio City Police Office (BCPO), made the appeal after social media posts concerning a number of incidents in the city, including the finding of a woman's cadaver in a residential area in Barangay Tabora, stories about missing persons and kidnapping, and unidentified individuals in a white van supposedly abducting people.
"We acknowledge the desire of the netizens to inform the public but be mindful of posting unverified information to the public that causes disturbance, confusion and affects the investigation of the police," Cayat said during the "Ugnayan" program facilitated by the city government's Public Information Office late afternoon on Wednesday.
"There is no need to panic and circulate unverified information that may cause alarm," he added, assuring the public that the incident about the cadaver was "isolated".
Cayat said based on their investigation, the victim left her work along Marcos Highway at about 10:30 p.m. on August 29.
Her sister said they tried to get in touch with her but they couldn't reach her and only learned that her lifeless body was found in Barangay Tabora the following morning.
In a statement earlier released by the city information office, Mayor Benjamin Magalong said the BCPO is investigating the incident.
"I trust that our policemen will leave no stone unturned to shed light on the circumstances surrounding the victim's death and identify and arrest whoever was or were responsible for it,"
he said. "Until the investigation is over, I am appealing to the public to refrain from making any speculation or conclusion that may trigger unnecessary fear. I believe that this is an isolated incident as there had been no similar cases reported of late."
As to the disappearances, Cayat said all the individuals earlier reported missing have now been reunited with their families.
"Iyong nawawala, nakauwi na po at safe sila (those reported missing have already returned home safe)," he said.
He also cautioned the public against posting or sharing information that causes further pain to the family of the victims, such as the "distasteful" appearance of the victims.
"We would like to assure you that your police are doing their best to maintain peace and order. We are asking the help of the public to report and be able to prevent criminality or if they know of any information related to the cadaver that was found, they can report and assure confidentiality of their identity," Cayat said.
He said the BCPO has further increased police visibility in the city.
Meanwhile, Magalong advised the public to continue to be vigilant and mindful of their and their loved ones' safety and immediately report any suspicious-looking activity, person, or place to the nearest police station. (PNA)