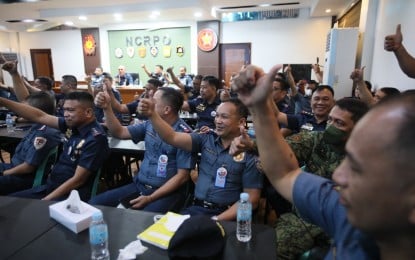 MANILA – Some 600 ranking police officials have submitted their courtesy resignations, Philippine National Police (PNP) chief Gen. Rodolfo Azurin Jr. said on Monday.
In a press briefing, Azurin said more officials are signifying their commitment to heed the appeal of Interior and Local Government Secretary Benjamin Abalos Jr. to rid the police force of misfits and those with links to illegal drugs.
He added that their Commander-in-Chief, President Ferdinand R. Marcos Jr. has also expressed his full support for this initiative.
"As of Sunday, we were able to account for more or less 500 to close to 600, as reported from the different regions. Some of these documents are en route here at the national headquarters and these would be collated and submitted to the five-man committee that will be formed by no less than our Commander-in-Chief," he added.
A total of 956 police officials, composed of generals and full-fledged colonels, are expected to file their courtesy resignations.
He reiterated that the process is being done to ensure that the next-in-line officers or those presently holding key positions are clean from any type of accusations against illegal drugs.
"Through this ongoing development, we assure the Filipino people that we will hold every police officer accountable for their actions, which will increase the overall accountability within the organization way forward, transforming the entire PNP into a stronger and more responsive police agency," Azurin told the police personnel during Monday's flag raising rites.
Last week, retired police general and Baguio City Mayor Benjamin Magalong has been named as one of the five members of the committee that will scrutinize the records of police officials.
Azurin, who has also tendered his courtesy resignation, said they are expecting fairness and professionalism from the panel.
"Because, gaya nga ng sinabi natin (as I've said before), we are talking here of the career of senior officers ng PNP who worked very hard in the last 30 years or more of their service," he said.
Azurin said he will not be spared from the probe even after he retires in April this year.
Meanwhile, National Capital Region Police Office (NCRPO) chief Maj. Gen. Jonnel Estomo took the lead in the signing of a courtesy resignation and underwent a surprise drug examination along with the third-level commissioned officers of the NCRPO at Camp Bagong Diwa, Bicutan Taguig City.
The screening test yielded negative results for all 72 urine samples taken during the drug test.
"As I formerly said that should there be anyone found to be positive of illegal drugs, he is automatically deemed resigned from the service immediately. Fortunately, none of the officers with me yielded positive results of the test. This is a positive starting indicator to this noble purpose of our SILG (Secretary of the Interior and Local Government) and our chief PNP in purging the organization," Estomo said in a statement.
Estomo warned other police officers that surprise random testing will continue under his stint.
"It is important to emphasize that those who tendered courtesy resignation are not drug users. This would reinforce the five-man assessment committee on their evaluation to be carried out", he said.
Last week, Abalos asked ranking generals from police generals all the way to full colonels to submit their courtesy resignation, after what he said was a massive "infection" in the police force by the drug cartels. (PNA)