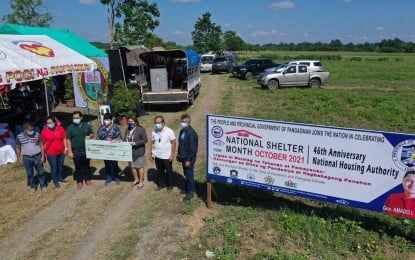 ALCALA, Pangasinan – The National Housing Authority (NHA) has released PHP15 million initial funding to the municipal government of this town for the resettlement housing project that will benefit informal settler families (ISF) in the town.
In a phone interview on Monday, NHA Ilocos and Cordillera regions program manager Aida Daiwey said the NHA granted the funding through a resettlement assistance program to the local government units (RAP LGU), with the latter to implement the project.
LGU Alcala provided the property or land, while NHA will fund the land development and housing construction, she said.
The resettlement area will cover the 5,044-square meter (sqm) lot where some 54 loft-type row housing units will be built.
The total funding for the RAP LGU amounts to PHP25 million.
"The remaining PHP10 million will be downloaded to the LGU after submission of (a) report on physical accomplishments indicating utilization of 80 percent of the first tranche," she added.
Daiwey said the beneficiaries of the resettlement project are residents in the town whose houses were built on dangerous areas such as waterways, near the sea, or those who were affected by government infrastructure projects such as road widening.
The turnover of the initial funding was led by NHA Ilocos and Cordillera regions manager Engr. Maria Belinda Sevalla on October 22 alongside the groundbreaking ceremony.
Daiwey said there are also other resettlement projects in Infanta, Binmaley, and Bolinao towns in the province.
The NHA also allocated the LGU Infanta with a PHP25-million grant for the land development and construction of 54 duplex housing units with a modal lot size of 50 sqm. and floor area of 21 sqm.
The project site is 7,480-sqm. portion of the 19,577 sqm. of land-titled in the name of LGU Infanta.
Daiwey said the project in Bolinao town only involved land development as it will only offer lots to beneficiaries.
Meanwhile, the resettlement project in Binmaley town consisting of 50 generated lots and loft-type row housing units has been turned over to the LGU by NHA.