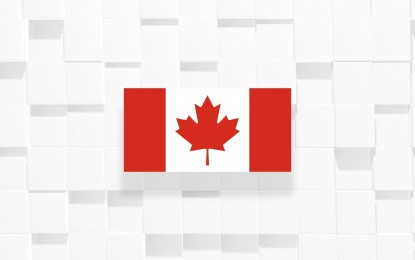 MANILA – Visiting Canadian Trade Minister Mary Ng has announced the grant of 12 million Canadian dollars (approximately PHP519 million) funding to support the Philippines' climate finance mechanism and peace efforts in the Bangsamoro Autonomous Region in Muslim Mindanao (BARMM).
The Canadian official, who is on a working visit in Manila from Sept. 18 to 20, made the announcement on behalf of the International Development, which is responsible for the Pacific Economic Development Agency of Canada.
The Canadian Embassy in Manila on Tuesday said the fresh funding would finance three projects, 4.5 million Canadian dollars or approximately PHP195 million of which is to help accelerate the flow of private capital to investments in nature-based solutions.
The Embassy said this would also help improve financial institutions' integration of gender-responsive and climate-related policies in their lending programs, and strengthen monitoring and reporting on the Sustainable Development Goals' impacts of green and climate investments.
At least 3 million Canadian dollars (PHP130 million), meanwhile, would fund a United Nations Women and UN Development Programme initiative to prevent insecurity and violence in conflict-affected communities in the Bangsamoro by strengthening the role of women as peace mediators.
The project, to run for three-and-a-half years, would also improve government capacity to deliver policies and programs on conflict prevention and resolution.
The remaining 4.5 million Canadian dollars would go to the Bangsamoro Normalization Trust Fund (BNTF), envisioned to assist former combatants of the Moro Islamic Liberation Front and their communities to achieve their desired quality of life.
Currently managed by the World Bank, the BNTF also seeks to contribute to the transformation of six previously acknowledged Moro Islamic Liberation Front camps into peaceful and productive communities.
Ng is the first foreign trade minister to visit the Philippines since the new administration's inauguration.
During her trip, she highlighted that Canada is home to nearly one million people of Filipino heritage and that she looks forward to deepening people-to-people ties as well as the trade and investment relationship between the two nations.
"Canada is home to nearly 1 million people of Filipino descent, and I've seen firsthand how their hard work and creativity contribute to vibrant communities in Canada and here in the Philippines. Canada is the first country to send a trade minister to the Philippines after the inauguration, and this absolutely reflects our commitment to strengthening our relationship with the Philippines. Let us continue to invest in one another's prosperity," she said.
With President Ferdinand Marcos Jr. driving infrastructure investments in the Philippines, the Embassy said Canada is looking forward to helping Manila build more roads, bridges, and hospitals while creating local jobs.
Ng also met with various Filipino business leaders, including women entrepreneurs and the Chief Executive Officer of Jollibee Ernesto Tanmantiong, to create additional opportunities for inclusive trade and investment, including in green technology, agriculture, and infrastructure. (PNA)