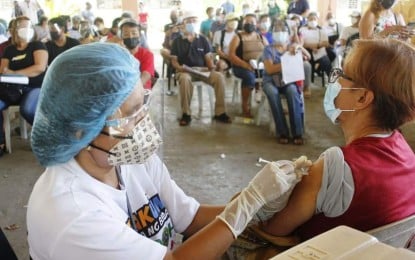 BACOLOD CITY – Some 213,828 residents of this city have availed of the coronavirus disease 2019 (Covid-19) vaccines as of October 16, data released by the city government on Tuesday showed.
The figure includes the 157,825 individuals considered as fully vaccinated after having received their second dose or a single-dose vaccine.
"Everyone is now a top priority for vaccination. We have to vaccinate every qualified Bacolodnon, who is willing to get vaccinated," Em Ang, executive director of the Emergency Operations Center Task Force (EOC-TF) and coordinator of the Covid-19 Vaccination Council (CoVaC), said.
Starting Oct. 11, the city government opened the vaccination roll-out to all priority sectors here, and all residents aged 18 and above are now being accommodated in all vaccination sites.
Even those who are not residents, but are working here can also avail of the Covid-19 vaccines, according to the EOC-TF.
After vaccinating the front-line healthcare workers (A1); senior citizens (A2); adults with comorbidities (A3); front-line personnel in essential sectors, including uniformed personnel, (A4); and indigent population (A5), it has made the vaccines available to those under the Group B, who are other front-line workers and special populations as well as Group C, the remaining population.
The goal is to vaccinate 68 percent of the city's total population of 624,987 or a target of 424,992 individuals.
Vaccination sites are being set up in shopping malls, village-covered courts, school gymnasiums, bus terminals, and quick-service restaurants branches on scheduled dates.
Also, the city government has initiated the VAX-i mobile vaccination by deploying five buses around the city; onsite and graveyard/night-shift vaccination for workers of business process outsourcing firms; and drive-through vaccination. (PNA)