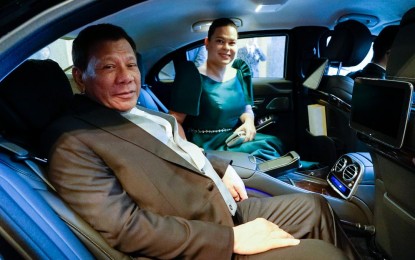 MANILA – President Rodrigo Duterte has made up his mind to join the 2022 vice presidential race, as he believes his daughter, Davao City Mayor Sara Duterte, is not interested in running for president, Malacañang said on Thursday.
In an online press briefing, Presidential Spokesperson Harry Roque said Duterte thinks that he can now seek the vice presidency since Sara seemed to be not bent on joining the presidential elections next year.
"Things are clear now, I will run as vice president," Roque quoted Duterte as saying Wednesday afternoon.
Roque reiterated that Duterte's "unfinished business" in addressing illegal drugs and corruption in government has convinced him to seek the vice presidency.
"Ulitin ko lang po, kaya po tatakbo ang Presidente bilang bise presidente dahil mayroon siyang unfinished business – korapsiyon, droga (I will just repeat, the reason why the President will run for vice president is because he has unfinished business – corruption and illegal drugs)," Roque said.
He also ensured that Duterte's vice presidential bid would not affect the government's coronavirus disease 2019 (Covid-19) pandemic response efforts.
He said defeating Covid-19 remains Duterte's top priority.
"Hindi naman po natin pupuwedeng limitahan ang karapatan ng Presidente na tumakbo. Iyan po ay karapatan ng lahat ng Pilipino. Pero sa tingin ko po, sa mula't simula, number one priority ng Presidente itong Covid (We cannot limit the President's right to run [for vice president]. That's the right of every Filipino. But I think, from the very beginning, the President's number one priority is the Covid-19 [pandemic response efforts])," Roque said.
Duterte's latest pronouncement came after Sara on Wednesday issued a statement, telling her father to "be candid" about his intent to run for vice president with Senator Christopher Lawrence "Bong" Go as his running mate.
Also on Wednesday, Roque confirmed that Duterte had made a statement that he and Go would drop their intent to join the 2022 vice presidential and presidential derbies, respectively, if Sara announces her presidential bid.
Sara, in response, told Duterte and Go to "stop talking about [her] and make [her] the reason for them running or not running."
Roque, in his latest statement, said Duterte had viewed Sara's remarks as a pronouncement that she would not gun for presidency.
"The statement [of Sara] was the basis for the President to conclude that things are clear now, that he can run for vice president because I think his perception is that Mayor Sara will not run for [the national] elections," he said.
Roque said Duterte's stance, out of "delicadeza," is that "only one Duterte will run."
"So since only one Duterte will run, and his perception, Mayor Sara will not run. Then he will run for vice president," he said.
Quizzed if there is a discord between Duterte and Sara, Roque said: "That is not something that I can answer as Presidential Spokesperson. Hindi ko po alam kung mayroong totoong bangayan (I don't know if there's really a strife between them). But in any case, it's very clear that this is a family matter, so I stay away from it."
Roque added that Duterte and Sara should be given a "breathing space to discuss and agree on future course of action."
"Well, all I can say at this point, and I'm only Presidential Spokesperson, is that let's let the father and daughter resolve this issue," he said. (PNA)