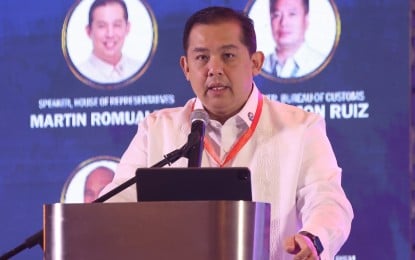 MANILA – The House of Representatives remains committed to ensure the fulfillment of the Marcos administration's agenda for prosperity with the passage of necessary legislation, according to Speaker Martin Romualdez.
In his remarks during the 2022 Asia CEO Forum at Marriot Hotel in Pasay City on Tuesday, Romualdez said the urgent focus of the House would be helping the government boost domestic demand and increase the competitiveness of local production to sustain and further accelerate economic recovery.
"Following our participation at the ASEAN Summit in Cambodia and at the APEC meetings in Thailand where I joined the President, we in Congress are likewise determined to further study needed refinements in our laws, regulations and government policies so as to further attract foreign investments and create more jobs for Filipinos," Romualdez said.
He said the lower chamber is in support of President Ferdinand R. Marcos Jr.'s prosperity blueprint, which has as its core mission the country's economic transformation towards inclusivity and sustainability.
"For the first time, the country has a clear six-year agenda with clearly defined goals," he said.
He pointed out that Marcos' socio-economic development masterplan has started to achieve significant results, with the economy growing by 7.6 percent in the third quarter of this year, faster than the 7.5-percent expansion in the second quarter.
He credited such growth to the Agenda for Prosperity and the "sound economic plan of our President and economic managers."
"These encouraging figures strengthen our resolve, as lawmakers, to remain fully committed in supporting the Agenda for Prosperity with the necessary legislative measures," Romualdez said.
Among these vital measures, Romualdez reported that the House approved House Bill No. 4339, or the last component of the Comprehensive Tax Reform Package, which aims to simplify taxation of passive income, financial services and transactions by reducing the number of tax rates from 83 to 58.
"If we are able to enact this package as proposed, we will be able to complete one of the largest tax reform programs of any country in the world," he said.
The House has likewise approved the bills taxing single-use plastic bags and non-resident digital service providers, and the proposed Ease of Paying Taxes Act.
Romualdez said Congress would also prioritize the passage of the E-Governance Bill to "significantly reduce, if not eliminate, red tape" as a response to the President's call to expedite the transition to a digital economy.
He said the chamber will also pursue the other priority legislative measures of the administration before yearend.
"In fact, I am hopeful that we can approved most of these measures before the year ends," Romualdez said. (PNA)