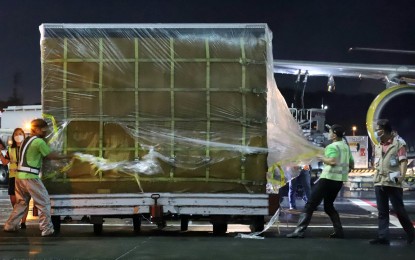 MANILA – The 703,170 doses of government-procured Pfizer-BioNTech vaccine that arrived Wednesday night will be distributed to the different regions with high coronavirus disease 2019 (Covid-19) cases, according to the National Task Force Against Covid-19.
Sec. Carlito Galvez Jr., NTF Against Covid-19 chief implementer and vaccine czar, said areas that have not received a Pfizer vaccine would also get a share of the latest delivery.
"Also, those areas that have never been reached by Pfizer because we want all the municipalities can have that sort of dry run so that when the majority of the Pfizer will come by October -- more or less of which will be delivered each month during October, November, December -- they are already knowledgeable on how to handle critical supplies like the vaccine of Pfizer," he said in an interview with reporters shortly after the vaccine arrival Wednesday night at the Ninoy Aquino International Airport (NAIA) Terminal 3 in Pasay City.
Pfizer vaccine requires a subzero storage facility, sensitive handling logistics and also prone to spoilage.
Majority of the vaccine allocation will be given to regions with high Covid-19 cases such as Regions 4-A (Calabarzon), 3 (Central Luzon), 1 (Ilocos), 2 (Cagayan Valley), 7 (Central Visayas), 11 (Davao), 6 (Western Visayas) and 9 (Zamboanga), Galvez added.
He acknowledged the US government, through US Embassy Charges d'Affaires John Law, for helping the Philippines secure the much needed vaccine supply.
"First of all we would like to thank Pfizer for delivering a new supply more than 700,000 plus and we would like to thank the US government for being faithful of really assisting us to have that access and I also want to thank John Law for never missing to be here to receive our deliveries that only represents the strong alliance between the US and the Philippines and the friendship we had since we have have our alliance with the US," he added.
The government is expecting 25 million vaccine doses to arrive this month from different sources.
Of the latest vaccine shipment, 600,210 arrived via Air HongKong flight LD456 while 51,480 doses arrived in Cebu at 6:35 pm via LD45. The remaining 51,480 doses is expected to arrive in Davao Thursday via Philippine Airlines flight PR1811.
Law said their government is ready to help the Philippines in fighting the pandemic.
"Just like what Secretary Galvez said every time you see a delivery of these vaccines where hundreds of millions of vaccines are coming in, that means hundreds of thousands of Filipinos in a few days are going to be better protected against this pandemic," he added.
"Secretary Galvez mentioned that we're allies, the American and Filipino people, we're also friends, so we continue to do all that we possibly can, working with Secretary Galvez and his team to help the Philippines confront this pandemic," he added. (PNA)