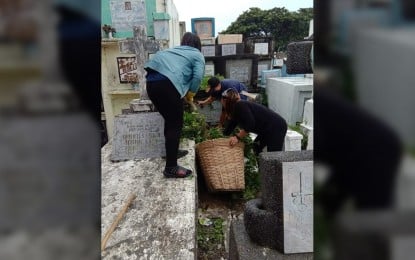 ILOILO CITY – All public and private cemeteries, memorial parks, and columbaria in this city are open to the public ahead of the Oct. 29 to Nov. 2 closure.
Mayor Jerry P. Treñas on Wednesday afternoon released Executive Order (EO) 129-A amending EO 129 that sets guidelines on the observance of the Undas (All Saints' Day) following the guidance from the National Task Force for the Management of Emerging Infectious Diseases on the three-day closure.
The mayor said exempted in the coverage will be those who have prior appointments for burial within the said date.
Jeck Conlu, spokesperson for the Iloilo City COVID team, in a follow-up interview on Thursday, said they have set prohibitions for those who will be visiting cemeteries before Oct. 29 and after Nov. 2 to ensure the observance of the minimum public health standards.
"Our prohibited activities from Oct. 25 until Nov. 5 include the bringing of foods and drinks and the conduct of congregation," he said.
The number of people to be allowed per group should not be more than 10 and the total number of persons inside the said places should not exceed the 50 percent venue capacity.
"We will be deploying personnel to monitor. Although the task force expects that there won't be too many visitors before and after the Undas based on our experience last year," Conlu added.
While an inventory of visitors will no longer be done, authorities are ready to conduct an accounting when necessary.
The personnel to be deployed will come from the Iloilo City Police Office, Public Safety and Transportation Management Office, City Health Office, and the City Disaster Risk Reduction and Management Office.
Further, the city government will no longer check on the vaccination status.
Meantime, the city government has identified Jaro Plaza as the area where vendors can sell flowers from Oct. 24 to 28.
"Only partially or fully vaccinated flower vendors are allowed to sell inside the Jaro Plaza. Upon application for special permits they already have to show their vaccination cards," he said.
A team from the city's social services division will also be deployed at the plaza to check whether or not the vendors are vaccinated. (PNA)