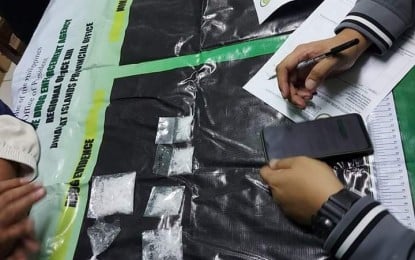 BUTUAN CITY – A total of 100 grams of shabu valued at PHP450,000 were seized in buy-bust by the Philippine Drug Enforcement Agency in Caraga (PDEA-13) at around 12:20 a.m. on Saturday in Purok 9, Barangay Doongan here.
PDEA-13 Information Officer Dindo Abellanosa told Philippine News Agency that the two suspects-- Jalil Camid and Junjun Durico-- evaded arrest and escaped during operation.
The suspects are known drug personalities in the area and had been subject to surveillance operations of PDEA-13 and Butuan City Police Station 2.
"The place of the buy-bust was still dark. When one of the suspects sensed that he transacted with our operatives, he immediately ran and boarded the motorcycle of his companion who was waiting in a distance," Abellanosa said.
He said the operatives were not able to react immediately to the escaping suspects as the area is heavily populated.
"The suspects left behind six heat-sealed plastic sachets wrapped in black facemask. They escaped with the marked money used during the buy-bust," Abellanosa said.
The seized illegal drugs were immediately brought to the office of Doongan Barangay Captain Gilberto Enriquez for documentation and assessment. (PNA)