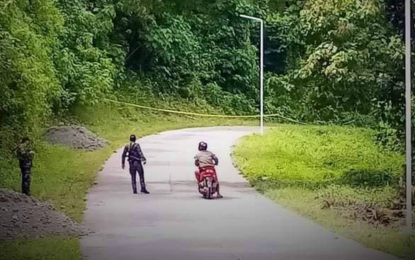 CAMP SIONGCO, Maguindanao – More military-police checkpoints have been set up in Datu Blah Sinsuat (DBS) in this province after a foiled roadside bombing attempt by alleged saboteurs in the area Tuesday afternoon.
Alert soldiers and bomb experts of the Army's 6th Infantry Division safely deactivated three hand grenades planted beside the highway in the coastal town, its spokesperson Lt. Col. John Paul Baldomar said Wednesday.
"Fortunately, nobody was hurt in the attempt," Baldomar said.
In a separate interview, DBS Mayor Marshall Sinsuat said three fragmentation grenades were found beside the national highway in Barangay Pura at past 2 p.m.
"The police and military are still determining who could be behind the foiled grenade attack," he said, adding that alert civilians tipped off the police and military about the explosives.
Following the incident, Sinsuat appealed to the residents to remain vigilant in helping authorities thwart attempts to disrupt peace.
"We have a peaceful town, please help us maintain this," he said.
Sinsuat said it remained unclear as to who is being targeted by the bombing attempt, and the brains behind it.
Lt. Pasigan Abas, DBS police chief, said investigation on the incident is ongoing. (PNA)