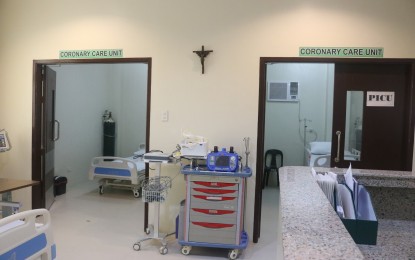 ILOILO CITY – The Dr. Catalino Gallego Nava Provincial Hospital (DCGNPH) in Guimaras continues to strengthen its delivery of health services with the opening of its intensive care and pulmonary units, blood station, and a CT scan section geared towards a Level 2 accreditation from the Department of Health (DOH).
"Right now we are a Level 1 hospital by DOH accreditation. These new units are part of our preparation because they are add-on requirements for a Level 2 hospital. We are aiming to be accredited by DOH as Level 2 hospital," said Dr. Inocencio Lopez, officer-in-charge (OIC) chief of hospital, in an interview on Friday.
The facilities were inaugurated on Tuesday and started its operations on Sept. 1.
Without these facilities, he said they still have to refer critical patients to Iloilo City.
The pulmonary unit and the CT scan will complement the ICU.
The blood station is necessary for their operation section, although it is not a requirement for its current Level 1 accreditation.
Within the next few months, he said they will apply for a license to operate the ICU and pulmonary unit with the DOH and the blood station with the Philippine Red Cross (PRC) while the CT scan already has a license to operate from the Food and Drug Administration.
The provincial hospital will enter into an agreement with a tertiary hospital for the upgrading of its laboratory.
"Before the year ends we will apply for an increase in bed capacity. So by next year, we will start the process for a Level 2 requirement," he added.
The hospital currently has a 25-bed authorized capacity but can accommodate up to 150 patients.
The target capacity for an increase is 150 to 200 beds.
"Once we become a Level 2 hospital there will be the opening of additional plantilla so we will hire more personnel to these areas," he said.
During the inauguration of the facilities, Governor JC Rahman Nava, a doctor, disclosed his plan of building a bigger laboratory, emergency and operating rooms, and another extension wing for the hospital that will begin in 2023, and a possible five-story hospital by 2024. (PNA)