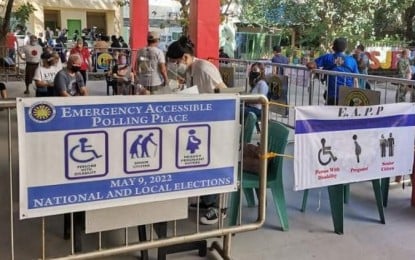 MANILA – The Commission on Elections (Comelec) held a voting simulation for two villages at the San Juan Elementary School on Saturday.
Teopisto Elnas, Comelec Deputy Executive Director for operations, said the 10 a.m. to 4 p.m. activity tested the other processes for the May 9, 2022 polls.
"We saw the function of the isolation polling place. When we entered the venue, we saw how important signages and reminders are as they guided the voters," he said during a press briefing. "We also saw the importance of voters' assistance desk which informed where the precincts are."
Voters who will exhibit Covid-19 symptoms will cast their votes in an isolation precinct.
Election and Barangay Affairs Department Director Divine Blas Perez reported that as of 1:15 p.m., 376 have already cast their votes from Barangays Balong Bato and Ermitaño.
"There were 311 registered voters while 65 used the emergency accessible polling place," she said.
Comelec spokesperson James Jimenez said the process was orderly.
"We saw that the processes are designed well. The next step really is to find out if they will hold up under a bigger number of voters," he said. "There will be other opportunities in the future to check. What we really wanted to see is if our procedures will work and so far they've worked."
Comelec held the simulation to determine the average time frame in the verification process of the identity of the voters, identify other areas of concern in the verification process, take into consideration minimum health and safety protocols, devise measures that will decongest polling places, and implement procedures that will ensure completion of the voting process in the shortest possible time. (PNA)