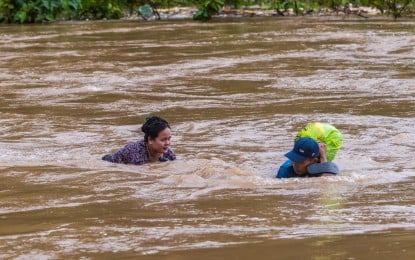 TACLOBAN CITY - The dream of residents to have a sturdy and higher bridge in flood-prone Siha village in Borongan City is coming into reality after the city government vowed to address their concern over their safety during weather disturbances.
Mayor Jose Ivan Dayan Agda said Wednesday the city government needs at least PHP27 million to fund the construction of a new bridge that would replace the existing low bridge that is usually submerged by the floodwater of Loom River during heavy rains.
"We visited the community during the height of the flooding and we saw the need to build a sturdier bridge since flooding isolates the community," Agda said.
Siha resident Randel Algo said the announcement of the city government was a "ray of hope."
"At long last, this gives us hope. We've been dreaming and waiting to have a better and elevated bridge. Hopefully, like what is posted on the social media account of the city government. Residents will no longer have to worry about crossing the river every time it rains," Algo said in vernacular.
"This is a big help, especially to teachers and students who need to cross the river in going to and from school. Crossing the bridge is very dangerous due to the strong current," Algo added.
During heavy rains, Siha Bridge is submerged by the rising current of Loom River, making the access road and bridge impassable.
During the incessant rains caused by the low pressure area, shear line and northwest monsoon last week, at least 24 students of Eastern Samar National Comprehensive High School and Eastern Samar State University were forced to stay overnight at the office of the city disaster risk reduction office as they could not cross the river.
"Having a better bridge will also help those people with medical needs to get to medical facilities and access health services even during rainy days," Agda added.
The flooding also affected 12 villages, displacing 1,861 families or more than 6,000 individuals.
The city also recorded two deaths from Pananag-an village who were swept by a strong current after their wooden boat capsized. (PNA)