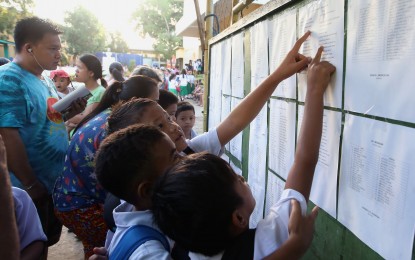 MANILA – The Department of Education (DepEd) on Tuesday reported that 12,697,558 learners so far have enrolled in public and private schools nationwide for academic year 2021-2022.
The DepEd's Learner Information System Quick Counts logged 8,140,231 learners enrolled as of Aug. 31 and 4,557,327 during the early registration as of June 2.
Region 4-A (Calabarzon) has logged the highest number of enrollees at 2,073,397 – 1,592,688 learners enrolled and 480,709 under early registration.
The National Capital Region recorded the second highest number of enrollees with 1,278,207 (986,082 learners and 292,125 registrants).
Meanwhile, there are 87,731 learners enrolled in the Alternative Learning System.
Last year, a total of 26,826,387 students enrolled in Kindergarten, Grades 1 to 6, Junior High School, Senior High School, and the Alternative Learning System.
Registration will run until Sept. 13, the first day of the school year that will use blended learning since physical classes remain suspended due to the pandemic.
Last week, DepEd Secretary Leonor Briones said the DepEd was considering the possibility of face-to-face classes if President Rodrigo Duterte would allow the pilot studies in areas where there is no severe Covid-19 threat.
Briones assured the public that the department would prepare for new and possible arrangements - face-to-face classes, partial face-to-face classes and use of technology in digital learning. (PNA)