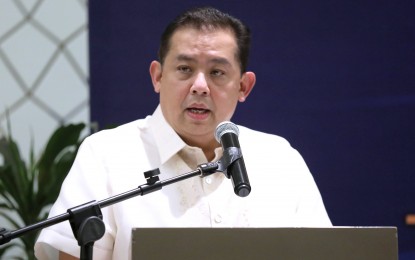 MANILA – House Speaker Martin Romualdez on Wednesday (Manila time) said he has "never been prouder" to be a Filipino after listening to President Ferdinand "Bongbong" Marcos Jr.'s debut address at the 77th United Nations (UN) General Assembly in New York City.
Romualdez said the president's participation at the event -- his first in the world stage -- was a "symbolic act" that would play a significant role in advancing peace and stability not only in the Southeast Asian region but in the Philippine's sphere of influence as well.
"I have never been prouder to stand as a Filipino in the company of world leaders. It was a great experience to see and hear our President spell out, in clear terms, what we as a people expect from the parliament of nations," Romualdez said.
Romualdez made the statement following Marcos' speech where the Philippine leader reaffirmed the ideals upheld and promoted by the UN, as well as the country's commitment to honor its obligations under international law.
Marcos stressed, among others, the importance of the UN in enforcing and applying international law, as well as championing international dialogue and cooperation.
He pointed out that Marcos' remarks showed "how we all need to work together to address the urgent problems plaguing the globe in this generation...That we need to act fast if want humanity to survive."
"President Marcos' call for global unity resonates with each one of us who fear what the tectonic shifts in the world today may bring in the coming century. The President's words struck a chord in every Filipino household. He verbalized what an average Filipino family would want to tell world leaders: please get your acts together so that we keep families all over the world feeling safe and secure for generations to come," Romualdez said.
He said Marcos has shown that the Philippines reaffirms its commitment to pursue dialogue and cooperation as a peaceful means to settle conflict and disputes.
"By reaffirming the ideals of the UN, we also recognize that the Philippines is a part of a bigger world community and, as such, must adhere to the principles mutually agreed upon by members of the UN," Romualdez said.
Romualdez also thanked Marcos for emphasizing that the Philippines is "a friend to all, and enemy of none." (PNA)