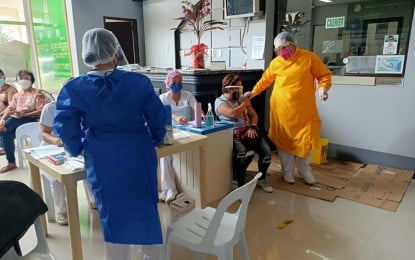 TACLOBAN CITY – The local government of Biliran province is eyeing to achieve population protection against coronavirus disease 2019 (Covid-19) before the end of November.
Biliran Governor Rogelio Espina said that based on the information relayed by the provincial health office (PHO), the goal is realistic with the current pace of vaccination and regular shipment of vaccines to the province.
"I was informed by our DOH (Department of Health) representative that Biliran province is targeted by DOH as one of the first provinces or areas to be given enough vaccines to achieve herd immunity by November 30," Espina said in a statement on Monday.
Biliran province is the smallest among the six provinces in the region with only eight towns and a population of 179,312.
To achieve this goal, Espina said they will need additional health workers and encourage people who are qualified for vaccination to register.
Based on the Covid-19 Bakuna Center Registry of the Department of Health, at least 33,821 individuals have been fully vaccinated as of October 21, representing over 26 percent of the 126,502 target population in the province.
Some 44,547 residents have already received the first dose of Covid-19 vaccines.
"This is an opportunity for the people of Biliran, especially our local officials, to exert more effort to facilitate and assist in the implementation of this mission. The provincial government, through our provincial health office, will also exert more efforts to coordinate with our municipal health offices in attaining this goal," he added.
Biliran, through the provincial inter-agency task force (PIATF), has also eased movement restrictions for those coming in and out of the province.
"One new policy is to allow fully vaccinated non-asymptomatic individuals with (Secure Biliran) QR (quick response) code to travel outside the province for a maximum of five days from exit and reentry and upon their reentry to the province if asymptomatic will not need to undergo quarantine and testing," Espina said.
Those who will return home with symptoms will have to follow the home quarantine protocols and will be swabbed on the fifth day.
Biliran residents who will travel outside the province for more than five days will have to undergo home quarantine if asymptomatic, facility quarantine if symptomatic, and will have to undergo swab test on the fifth day.
For returning overseas Filipino workers (OFW), requirements include local government acceptance, QR code, and vaccination card.
They also need to undergo quarantine and swab tests on the fifth day.
An OFW with a negative result will be discharged on the seventh day and will need to do self-monitoring until the 10th day.
Those who will turn positive for Covid-19 will be subjected to facility-based isolation.