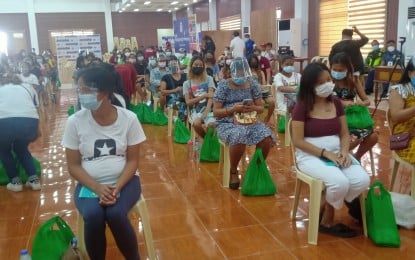 LINGAYEN, Pangasinan – Some 200 out of 3,200 nutritionally at-risk pregnant women in Pangasinan have received food packs from the anti-hunger multi-sectoral movement, Pilipinas Kontra Gutom, the Task Force Zero Hunger, and the provincial government of Pangasinan in a ceremonial program Monday.
In an interview, Task Force Zero Hunger chairperson Cabinet Secretary Karlo Nograles said the project is one of the initiatives of the task force in partnership with private sectors and the local government units to fight hunger in different provinces.
"One of the problems brought about by the coronavirus disease 2019 (Covid-19) pandemic is hunger and malnutrition so we wanted to protect one of the most vulnerable sectors -- the pregnant women and their babies," he said.
Nograles said the first 1,000 days of a child are considered the most crucial in human growth.
"If we wanted the child to grow healthy and strong, we should focus on the first 1,000 days where rapid brain development happens," he added.
Aside from the food packs, the beneficiaries were given a journal that contains a guide for proper care for their babies, as well as healthy and affordable recipes that were vetted by the National Nutrition Council (NNC).
The provincial government of Pangasinan, through its Provincial Health Office (PHO), also conducted Covid-19 vaccination for pregnant women.
"Because they are at risk, they need to go through an assessment by the PHO to qualify for inoculation," Nograles said.
Meanwhile, Dr. Azucena Dayanghirang, Assistant Secretary and Executive Director of the NCC, said Pangasinan will also benefit from a project -- under early childhood care and development program -- by November for the 6 to 23 months-old malnourished children in the province.
Board Member Nestor Reyes, who represented Governor Amado Espino III, thanked the national government for the projects.
In a separate interview, Maylene Mostoles, one of the initial beneficiaries, said the food packs and the journal will greatly help her pregnancy.
"My husband's income was affected by the pandemic and I still have little children so I will share with them the content of the food packs while I will have more ideas on how to prepare healthy meals for them through this journal," she said.(PNA)