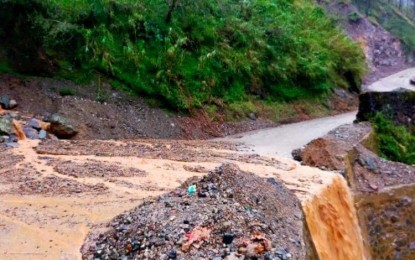 MANILA – A total of 15 national roads in four regions are closed to all types of vehicles due to the effects of bad weather caused by Severe Tropical Storm Maring.
In an update, the Department of Public Works and Highways-Bureau of Maintenance (DPWH-BOM) reported that as of 8 a.m. Tuesday, eight national road sections in Cordillera Administrative Region (CAR), four in Ilocos Region, two in Cagayan Valley and one in Central Visayas remain closed to traffic.
Vehicles are not allowed due to fallen trees, land and mudslide, flooding, and damage to bridges.
The affected sections in CAR are Kennon Road, Camp 1, in Tuba, Benguet due to fallen trees and debris flow; the Baguio-Bontoc Road section in Caliking Atok, section Half Tunnel in Paoay, and the section in Cattubo, Atok, Benguet; the Asin-Nangalisan-San Pascual-La Union Boundary Road section in Lasong and First Tunnel in Sipitan section in Tadiangan, Benguet due to soil collapse.
Also closed to traffic are the Apayao-Ilocos Norte Road, Butao, Calanasan, Apayao due to landslide; Pico-Lamtang Road, Lamtang, La Trinidad, Benguet due to soil collapse with a fallen tree; Gov. Bado Dangwa national road in Poblacion and Palina, Kibungan, Benguet; Cong. Andres Acop Cosalan Road in Amlimay and in Abatan, Buguias, Benguet; and the Abatan-Mankayan-Cervates Road due to soil collapse.
In the Ilocos Region, the Manila North Road in Barangay Sacuyya, Santa town and the Bayugao Bridge, Sta Cruz, Ilocos Sur are closed due to landslide and damage, respectively, while the San Juan-San Gabriel Road, and Luna-Bangar Road in La Union were also closed due to landslide and flooding; and the Rosario-Pugo Road, Barangay Ambalite, Pugo, La Union remained closed due to mudslide.
Meanwhile, the affected road sections in Cagayan Valley are Baybayog-Baggao-Dalun-Sta. Margarita Road, Abusag Overflow Bridge, in Cagayan and Cabagan-Sta. Maria Overflow Bridge, Cabagan Sta. Maria, Isabela both due to high water elevation.
In Central Visayas, a road closure was reported along Cebu-Toledo Wharf Road, Barangay Manipis, Talisay City, Cebu due to soil collapse and rockfall.
The DPWH-BOM also reported several roads with limited access due to flooding in Ilocos Region.
On the other hand, roads that are only accessible to heavy vehicles include the Manila North Road in Sta. Cruz-Sta. Lucia Boundary, in Candon, in Barangay Baliw Daya, Sta. Maria and in Barangay Nanguneg, Narvacan, in the province of Ilocos Sur; and Manila North Road, in La Union. (PNA)