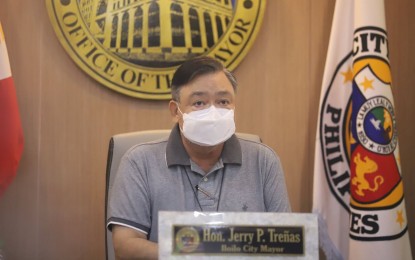 ILOILO CITY – Selected areas in this city's nine barangays have been placed on localized containment (LCM)-surgical lockdown effective Wednesday until Aug. 28 unless extended due to the detection of Delta variant cases in their areas.
The Philippine Genome Center detected two Delta cases each in Barangays Jereos, La Paz and North Fundidor, Molo and one case each in Barangays Magsaysay, La Paz; Cubay and Tagbak, Jaro; Calahunan, Guzman, and Navais in Mandurriao; and Katilingban, Molo in a result released to the City Epidemiology and Surveillance Unit (CESU) on Aug. 23.
However, the CESU reported on the same date that all the new Delta variant cases have recovered.
"Based on the recommendation of the Iloilo City Covid-19 team, there is a need to impose a surgical lockdown in these barangays," said Mayor Jerry P. Treñas in his Executive Order number 76 signed on Aug. 24 and released Tuesday night.
The order specifically identified portions of 29 Jereos Street and Magsaysay Village; Rica Village, Mac Arthur Drive in Cubay; Metropolis Subdivision, Tagbak; commercial building across Arroyo Elementary School in North Fundidor; Zone 2, Katilingban; Ana Ros Subdivision, Calahunan; Apartment Building, 13 Guzman Street in Guzman and a boarding house located at First Homes Subdivision in Nava-is.
"The LCM-surgical lockdown is required to conduct the disinfection, mandatory random testing and other health interventions of the Iloilo City Government," the order said.
The city mayor directed the Public Safety and Traffic Management Office, City Health Office (CHO), Iloilo City Compliance Officers, Philippine National Police, barangay officials, and force multipliers to enforce the lockdown.
Within the duration of the containment measure, all residents of the affected barangays are advised to "refrain from unnecessary travel" until the testing and sanitation process is done.
Public and private forms of transportation, including the unauthorized movement of persons along the streets of the said barangays, "shall be absolutely restricted" during the lockdown period.
Exempted from the order are those needing immediate hospital care and management, those involved in the maintenance of peace and order, and persons with confirmed Covid-19 cases who need to be isolated in the city's quarantine facilities.
A curfew from 8 p.m. until 4 a.m. will be observed while the sale and consumption of liquor are prohibited, the EO stated.
With the movement restrictions, the local government will provide for the foods and medicines of residents in the affected barangays.
The Covid-19 task force and the CHO will also conduct an assessment regarding the possibility of local transmission, extent and scope, and measures taken to arrest the possible spread. (PNA)