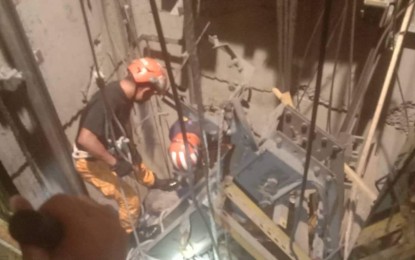 MANILA – The Department of Labor and Employment (DOLE) gave officials of firms involved in the crash of an elevator inside the Burgundy Corporate Tower in Makati City until July 18 to submit more documents as part of its investigation of the mishap.
In a report on Tuesday, DOLE-National Capital Region director Sarah Buena Mirasol said respondents Kris Bryan Balino, property manager of Colliers Property Management which leases the building, contractor Concepcion-Otis Philippines, Inc., and subcontractor DLC Electro Mechanical Engineering Services have been ordered to submit the following documents:
-construction safety and health program (CSHP) with methodology
-Philippine Contractors Accreditation Board (PCAB) license of Concepcion-Otis Philippines, Inc.
-registration of establishment under the DOLE's Rule 1020 of Concepcion-Otis Philippines, Inc.
-certificate for designated safety officer
-certificate for designated first aider
Mirasol said the submission of additional documents was ordered at the mandatory conference held on Monday where representatives of the company, contractor, and the subcontractor presented employment records and other pertinent documents.
The conference was scheduled after the DOLE-NCR issued a work stoppage order dated July 8, on the dismantling and replacement of the passenger elevator involved in the accident.
Meanwhile, Mirasol said they found more violations after a labor inspection was conducted on the building.
Among other violations noted is the absence of safety orientation, mandatory eight-hour orientation to all workers on occupational safety and health standards (OSHS), annual medical report, annual work accident/illness exposure data report for 2021, and employer's work accident/illness exposure data report.
Other violations include non-provision of personal protective equipment (PPE) and the absence of essential requirements and facilities such as a permit to operate for working at heights, a defined procedure in the performance of hazardous work, treatment room and an occupational safety and health committee.
Inspectors also cited violations of general labor standards such as non-presentation of employment records (payroll, proof of payment of 13th-month pay and Social Security System (SSS), PhilHealth, and Pag-lBlG remittances); and non-registration under Department Order No. 174, series of 2017.
"The respondents have 10 days for corrective action," she added.
On the early of morning of July 8, two workers who were fixing an elevator on the building's sixth floor died after another elevator from the 38th floor accidentally fell into the basement.
The victims were identified as Marfel Mico Linayao and Rey Miguel Gileda, both DLC employees. (PNA)