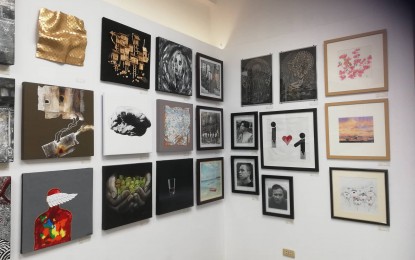 SAN JOSE DE BUENAVISTA, Antique – About 90 artworks of local artists from Antique are on display at the newly opened Studio Mano gallery here, which will be the home of the provincial art scene.
The 90 art pieces are included in the ongoing exhibit dubbed "Collective Beginnings: A Maiden Exhibition", which will run until October 5.
The exhibit is the local artists' way of showing inclusivity, whether they are beginners or have already made a mark as visual artists.
"Since we wanted inclusivity, we have also invited artists from around Western Visayas and in Bohol and Leyte to exhibit," Bryan Liao, a member of the Ramag Visual Arts Group (RVAG) that provided the free space that was converted into a gallery, said in an interview on Thursday.
Liao, a handwoven metal artist, introduces a new concept to the traditional weaving industry of Antique, using fabric and other indigenous materials.
Studio Mano was the result of the collaboration of various art associations, particularly the RVAG and the Antique Visual Arts Association.
The opening of the studio brought into fruition the longtime dream of the province's 50 local artists to have a gallery where they could display their artworks.
Erwin Anthony Ricarze, one of the local visual artists, said in the past, they were only able to display their artworks every time the provincial tourism office invited them to special events.
"There were also times that our artworks were just being displayed with food items and other things put up on such occasions, but with the opening of the Studio Mano, there is now a gallery where our paintings or artworks will be officially placed," he said in a separate interview. (PNA)