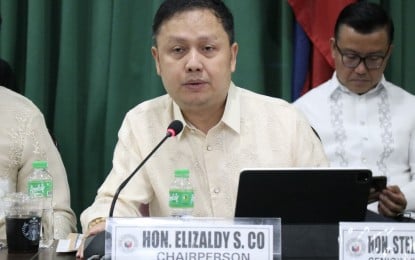 MANILA – House Appropriations Committee Chairman Elizaldy Co on Wednesday lauded Justice Secretary Crispin Remulla for creating the Prosecution Integrity Board and the Case Decongestion Task Force to improve the judicial system and the administration of justice.
During the hearing on the Department of Justice's (DOJ) proposed budget of PHP26.686 billion for next year, Co said the board would look into judicial misconduct involving prosecutors, who are considered as gatekeepers of the criminal legal system.
"We laud Secretary Remulla's first official order as head of the DOJ to create the Prosecution Integrity Board. Established through Department Circular No. 027, the board will look into misconducts of government prosecutors and recommend sanctions against them, if necessary," Co said.
He also highlighted the creation of the Case Decongestion Task Force and the adoption of the electronic inquest system and alternative preliminary investigations that would help improve judicial performance and efficiency.
Co also commended the DOJ for maintaining its law enforcement Tier 1 ranking in the US Human Trafficking Report these past seven years.
The DOJ reported to Congress that it has reduced its case backlog to 25.48 percent in 2021 from 57.4 percent in 2013 with a matching improved case disposition rate of 92.35 percent in 2021 from 78.30 percent in 2013.
Its prosecution success rate climbed to 91.8 percent in 2021 from 68.3 percent in 2013.
The panel swiftly terminated the hearing without any changes to the budget for the DOJ Office of the Secretary and its 10 attached agencies.
"With the proposed budget of PHP28.2 billion for the fiscal year 2023, we look forward to all DOJ plans and programs to ensure that justice is served efficiently and appropriately," Co said.
Of the DOJ agencies, the Bureau of Corrections has a proposed budget of PHP5.9 billion, the Public Attorney's Office has PHP5.03 billion, and the National Bureau of Investigation (NBI) has PHP1.85 billion. (PNA)