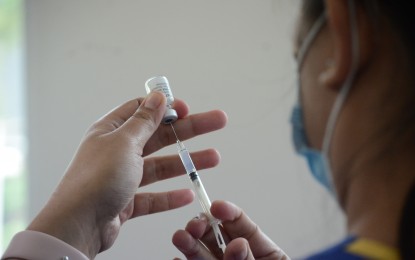 MANILA – The Department of Health is finalizing the budget for next year's vaccination program, including catch-up vaccination, and booster shots if needed, the Department of Health (DOH) announced Friday.
"This will entail a budget for catch-up vaccination and booster shots if needed and scoping of second-generation vaccines," the DOH said in response to questions from the media.
The DOH, however, clarified that as of this time, it does not recommend a third dose or booster shots as the majority of Filipinos have yet to receive their coronavirus disease 2019 (Covid-19) shots.
Studies are being done to look at the "real-world effectiveness and safety" of booster shots.
This would include its duration of immunity, its effect on Covid-19 variants of concern, the feasibility of implementation through logistical requirements, and funding and supply negotiations.
It added that the effectiveness and safety of vaccines through real-world effectiveness studies, Emergency Use Authorization, or Certificate of Product Registration from the Philippine Food and Drug Administration are also being considered.
Meanwhile, continuous funding for additional health care workers is being planned in response to the increasing number of Covid-19 cases.
"DOH has also requested additional funding from Department of Budget and Management (DBM) for the continued salaries of Human Resources for Health (HRH) under the emergency hiring program and budget for additional HRH," the DOH said.
In addition, it requested the Philippine National Police and the Bureau of Fire Protection to mobilize their nurses to boost the DOH's Covid-19 response.
On Thursday, Malacañang said the government has allocated at least PHP45 billion for the purchase of booster shots in the proposed 2022 national budget.
The proposed national budget is the largest ever in the country's history and is worth PHP5.024 trillion. (PNA)